WINNER
Welfit Oddy 
For Global Leadership in the Design,Manufacture and Sale of Tank Containers, Bulk Liquid Shipping  Containers and Transport Containers
Over the course of 124 years Welfit Oddy have carved out a sustainable niche for themselves as a world-class fabricator and have been a global leader in tank container technology for the past three decades. They are the second largest manufacturer of this class of product in the world and the only company in South Africa that still serves this sector. Internationally their products are used to ship a wide range of fluid cargoes.
The impact of their business on the stainless steel industry is indisputable, not least because the components of a tank container are 60% stainless steel and the rate at which Welfit Oddy produces them devours a staggering 70 tonnes of the material daily.
Welfit Oddy is a significant contributor to the South African economy in that they support local industry, not only in their use of local stainless steel, but in their purchase of all other components that are fitted to tank containers. In 2016 they had a turnover of almost R2 billion and they employ 1 500 people.
But quality product alone does not guarantee survival and Welfit Oddy's achievements do not lie solely in innovating new designs and construction
methodologies. To stay in operation for more than a century, and indeed to thrive, requires a very particular approach to business.
Consider that the company started out forging horseshoes and building wagons. Since 1894 the market for horse-drawn transport has changed somewhat but so has Welfit Oddy. Their ability to recognise shifts in the landscape and adapt their strengths to service new sectors has
ensured their long-term prosperity. Along the way they have fostered open relationships with a large number of stakeholders and the consistent quality of their output has earned them preferred supplier status with many of their clients, both locally and internationally. From a technical standpoint the way in which their operation runs is also remarkable.
Contact :  Welfit Oddy
Tel : 041 404 6600
Website : www.oddy.co.za
---
1ST RUNNER UP
Hazleton Pumps
For the Design, Development and Manufacture of the HIPPO Slurry Pump Range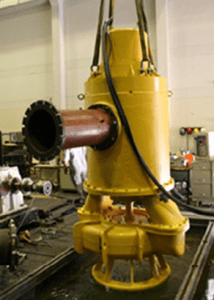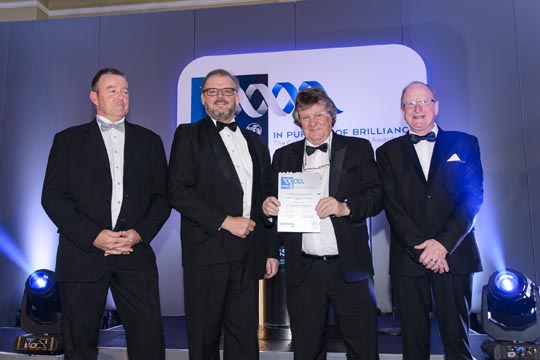 Hazleton Pumps has a historic relationship with the mining sector. But rather than selling developed products off the shelf their approach has always been somewhat bespoke. Their strategy is based on forging sustainable relationships with customers and building custom pumping solutions
that exactly match their clients' requirements.
Their flagship brand is called Hippo, a slurry pump capable of operating under the most punishing conditions. This is typically deployed to move high volumes of acidic and corrosive liquids that contain solids. When the South African market began to experience a downturn Hazleton took the decision to seek out markets abroad.
It has successfully achieved this and exports now comprise 26.65% of their annual turnover up from just 3.58% two years ago.
In order to service the export market, Hazleton has found it necessary to establish a new manufacturing plant in South Africa. As some Hippo range pumps can have individual components as large as 2.5 tonnes, keeping the process in-house ensures that Hazleton can keep costs internationally competitive and affords them complete control over quality.
Hazleton has chosen to recruit from local communities and continuously upskill through apprentice training programmes. The total number of
employees has tripled since 2014. Hazleton sources 95% of the materials used in their Hippo range from the local market, 100% of which are fully recyclable.
Contact :  Hazleton Pumps
Tel : 012 666 8431
Website : www.hazletonpumps.co.za
---
2ND RUNNER UP
Duvha Foundry
For the Establishment of a Foundry Against  All Odds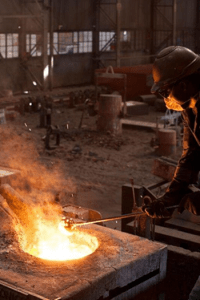 Duvha Foundry takes second runnerup in the business excellence category at this year's stainless steel awards. This company is an example of how hard work, ethical behaviour and a will to succeed can prevail in an economy that has been anything but buoyant in the past four years. Duvha Foundry has proved to be an exceptional company and a fantastic South African success story.
Nedbank financed the start up of Duvha Foundry in 2012, giving it a R1.2 million loan, with an additional R150 000 overdraft facility – less than half of what the business plan called for.
It was a tough start for the company, which, under the leadership of Stanley Tshivhase, bought a second hand furnace. By working Tshivhase's contacts and calling in favours, Duvha managed to kit out a fully-fledged foundry in an 800m2 workshop. Tshivhase named his new venture "Duvha" a Venda word that means "the sun that rises and shines".
Tshivhase started with six employees and then set out to look for work. After four tense months his first order came from Conbrako who were looking for a South African foundry to cast draw gear components that they were being made in China. Competing on price was difficult, but Duvha was able to deliver on vastly improved lead time and quality.
In the four years that it's been in business, Duvha Foundry has grown from six employees to forty-two and Tshivhase considers staff development to be essential for growth. Stanley ensures that his workers obtain relevant qualification and certifications through sassda and SAIF and university institutions.
Duvha Foundry may have started small but it is now anything but. The single second-hand furnace they started with has been joined by four others. With capacities ranging from a 150 kg furnace on the low-end all the way up to 2 tons on the top end, both twin bodied with each power pack having a changeover switch, Duvha is well placed to meet customer needs.
Having outgrown their 800m2 workshop, Duvha now occupies 5 200m2 under roof in their new factory in Chamdor. They can execute castings with
yields from as low as 2.5 kgs all the way up to 1500 kgs, in a range of iron grades, steel grades and stainless steel grades.
Contact : Duvha Foundry
Tel : 011 762 1557
Website : www.duvhafoundry.co.za