Sassda are collaborating with the Drakenstein municipality in the Western Cape to obtain South African costs for the installation of stainless steel water pipes.
The project consists of two installations – the first being the bulk water system, which is being upgraded with stainless steel under the road leading into a housing estate in the city. The second is the use of prototype 0.3mm continuously corrugated pipe which is being installed within the housing development.
The pipe is in contrast to the 1mm 316 intermittently corrugated pipe from the South Korean LCC shown in the case study below.
The South African LCC analysis should thus show that stainless steel is even more cost competitive than the Seoul example.
DRAKENSTEIN MUNICIPALITY – A MODEL SOUTH AFRICAN CASE STUDY
Drakenstein Mu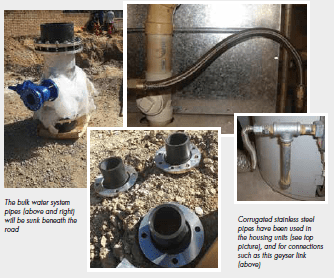 nicipality in the Western Cape is a frontrunner in the use of stainless steel water piping. It uses grade 316 stainless steel in its underground network and grade 304 in above-ground
applications. It has chosen to do this as it believes it is illogical to place pipes in the ground that will need constant maintenance due to corrosion.
It currently has a 13.4% water loss figure, as compared to other municipalities' average water loss of 39% and says its figure will only improve as it continues replacing inferior fittings over the years.
International Water Association Water Loss Specialist Group Chairman Dr Ronnie McKenzie says he wishes more municipalities operated in the manner of Drakenstein Municipality.
He says stainless steel is more expensive initially but can often be highly cost effective in the long run
when the life of the installation is considered, especially in humid coastal areas and areas with highly aggressive soil conditions.
"When you apply stainless steel, the maintenance costs are reduced which will often outweigh the higher initial capital costs. It is always a balance  between affordability and sustainability and in certain cases it makes sound financial sense to utilise stainless steel for specific sections of the water reticulation infrastructure.
"Relatively few municipalities have the foresight of Drakenstein, which places significant emphasis on quality and the life-span of any new infrastructure. This approach has served the municipality
well over the past 20 years which has seen its leakage levels drop to one of the lowest levels of leakage in South Africa," says McKenzie.