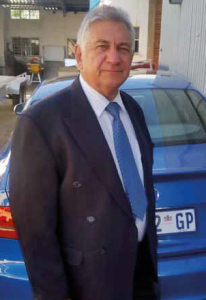 Frans Kloppers started his career as a boilermaker and after 24 years decided it was time he became his own boss. Today he is the MD of Vessel Fab, a fabrication company located in Chamdor (Gauteng), which has been in business for 21 years and employs roughly 40 people, with major contracts from big players in the industry.
Why stainless steel?
Because, like diamonds, it lasts forever.
What is something not many people know about Vessel Fab?
Not too long ago we ran out of space in our yard, so we stored partly fabricated items on the railway adjacent to the premises. Fortunately there were no trains running! We're really looking forward to moving to our bigger and better premises soon.
What is the most important lesson you have learned during your career and personal experiences?
To keep going and never give up, regardless of the circumstances. Working for a boss is one thing – you get told to do the work and you get it done. Starting and running your own company is a completely different ball game – you're responsible for getting the work in and for any errors that happen. So many things are out of your control, so you have to focus on the solutions instead of the problems.
What do you do when you aren't working?
I am an absolute Harley Davidson aficionado! I've always been into bikes, but my interest was always more towards superbikes until my wife came to me in about 2008 and told me she wanted a Harley. We got one each and have been riding together ever since. I'm a life member of Harley Davidson and a HOG. Member at Pretoria Harley Davidson club. We go on many rides and trips together, like the White River Rally every year and Margate Bike Week. My favourite memory on the Harley was our trip to Victoria Falls a couple of years ago. We were about 18 riders with a back-up vehicle and we travelled through Botswana, spent three days at the Vic Falls and then came back home through Bulawayo. It was an amazing experience – riding in a pack is so much safer and gives you so much support as a rider. It's a controlled environment with no drinking on the rides and the marshals keep everyone in line.
What would you say is the most challenging partof working in this industry?
As i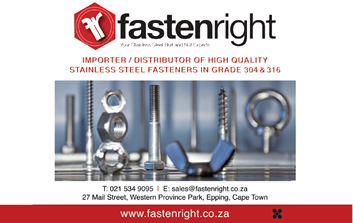 n industry across South Africa, labour unrest can be a serious setback. During last year's strikes (and the ones that happened three years before that), we had some intimidation and damage – our gate was broken, the workshop was stoned and the workers who wanted to continue working (as well as management) received death threats. It's not just that you can't work when all this is going on – it takes a while to get work back in and get it done and off to your clients once everything has settled back down (after the unions have done their negotiating and finalised the agreement). It has a major effect, not only on the cash flow of the business, but also on the wages of the workers (because of the short pay they're put on when there's no work). There has got to be a better way to solve wage disputes than this.

If you weren't at Vessel Fab, what would you be doing with your life?
Honestly, I don't know – Vessel Fab is my life. I really see myself just as a boilermaker and so the workshop is my office. I'm always on the floor because this is my passion – I love it.