2018
OCTOBER 2018
Stainless awards provide welcome boost to local sector
The winners of the 2018 Sassda Columbus Stainless Awards have been announced at a glittering banquet in Fourways, Johannesburg with 189 entries from 53 companies resulting in a stellar list of more than 60 finalists.
Speaking at the event, Sassda Executive Director John Tarboton said; "This year, perhaps more than ever, awards of this nature are essential as they celebrate the innovation, strength and durability of the South African stainless steel industry, despite the buffeting winds of change that have beset our country in the two years since the last awards event was held.
AUGUST 2018
Stainless Steel…beyond 'Ramaphoria' hesitantly hopeful
President Cyril Ramaphosa's maiden State of The Nation speech in February this year highlighted a number of areas such as job creation, boosting the manufacturing industry and key infrastructure projects where the local stainless steel sector has an instrumental role to play.
Unfortunately, in tandem with this the South African stainless steel sector is facing increased trade tariffs from the United States under the 'leadership' of Donald Trump. In light of this Southern African Stainless Steel Development Association (Sassda) Executive Director John Tarboton analyses the bigger picture
JULY 2018
Multiple international award wins for Columbus Stainless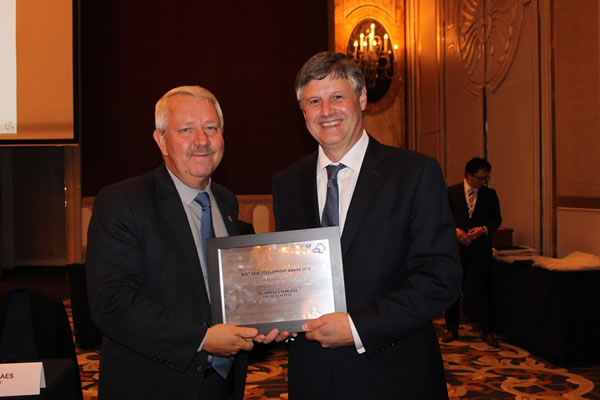 Columbus Stainless won a number of awards at the recent ISSF Annual Workshop held in Shanghai, China most impressive of which was the overall Gold Award in the Safety Awards Programme's workplace improvement category
Sassda visits the 'Tesla' of the stainless steel industry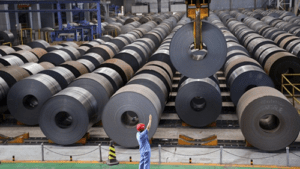 With the global commodity cycle bouncing back, the demand for stainless steel is intensifying, underpinned by backward integration and the recent developments in 4-in-1 stainless steel plants, which cut costs of production, rendering stainless steel even more competitive against comparable materials
The 4th Industrial Revolution is here – are you ready?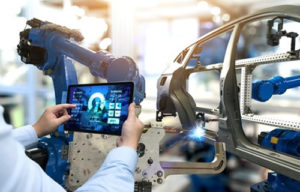 With 400 000 manufacturing jobs lost since 2008, elevated labour costs and a 3% drop from 15% to 12% in the manufacturing industry's contribution to Gross Domestic Product (GDP) over the period, the potential of the Fourth Industrial Revolution (4IR) to revolutionise the output of local manufacturers has never been more significant to the long-term sustainability of this 'engine room' of South Africa's economy
JUNE 2018
Sassda Uncovers a Wealth of Opportunity in Kenya and Tanzania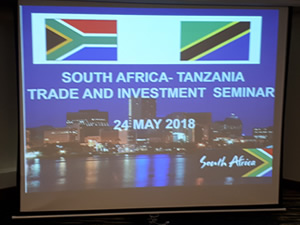 With the advent of fast industrialisation and a call for the development of stainless steel within the agricultural and food and beverage industries, Tanzania and Kenya are primed for increased bilateral trade with South Africa, with confirmed sourcing enquiries already received at Sassda
Sassda Zeros in on Zambia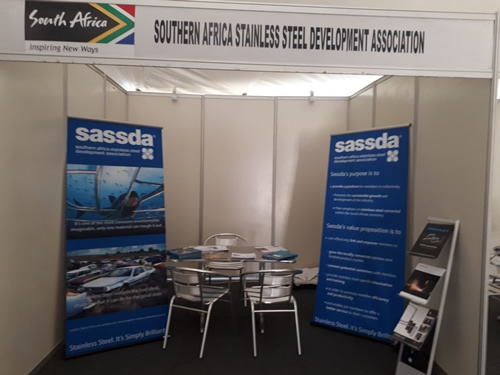 Sassda Western Cape Regional Manager Michel Basson continued Sassda's African odyssey, this time in Zambia, where he forged strong new ties across the country via a stand at the Caminex Exhibition and talks with the Zambian Engineering Council
MAY 2018
Eastern Cape shines brightly in SA's stainless sector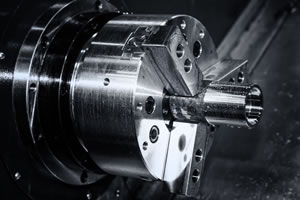 A recent Sassda visit to a number of our Eastern Cape members revealed that just because it's far from the madding crowd, doesn't mean this coastal region isn't home to some stainless steel super stars
Sassda Winner experience in a lifetime Parisian Prize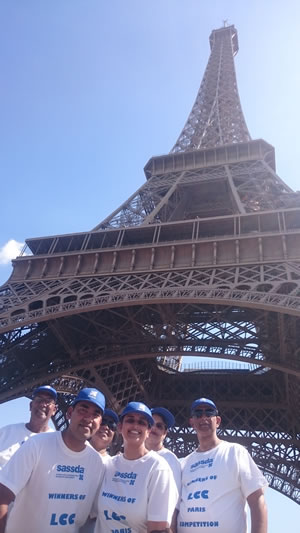 Sassda's ground breaking 2017 Lifecycle Costing Competition culminated in the once in a life time trip for winner Amrish Punwasi and his family to the Eiffel Tower and beyond, at the end of April 2018
Dairy Dilemma & Sassda's Long-term Solution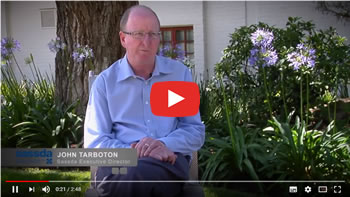 The tale of a KZN dairy in dire need of a solution is revealed in this latest instalment in our highly-popular video series.
This time we share a number of learnings in this agro-processing case study
Sassda 30 Years Ago – An industry stalwart passes away
Thirty years ago, Sassda marked the passing of a local stainless steel industry stalwart, Eric Smith, whose technical wisdom was to materially assist in some of the great innovative thrusts at Middleburg Steel  & Alloys
Returning Sassda member champions stainless steel in military applications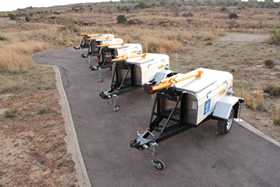 With a reputation for creating some of the world's toughest off-road stainless steel trailers; manufacturer and exporter Desert Wolf,  has recently reinstated its Sassda membership and it's no surprise it's currently a preferred supplier to the South African National Defence Force (SANDF) supplying it with stainless steel diesel field stoves and diesel modules
SABS-approved corrugated piping offers a flexible alternative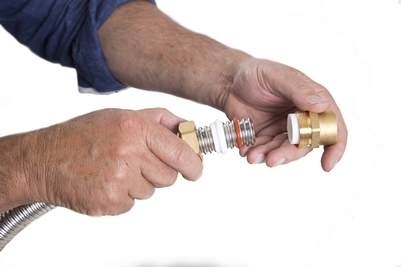 The corrugated stainless steel pipe sector is gaining momentum as a cost-effective solution with latest developments having included the approval of a new SABS standard of lightweight waterline systems, following rigorous testing, driven largely by Sassda members Easyflex and Inox
Sassda Video Q&A – Africa presents a melting pot of opportunity in 2018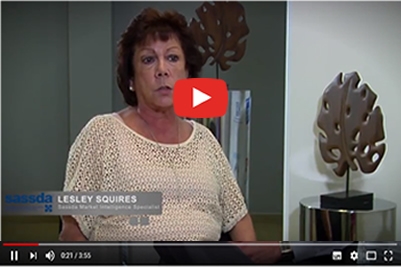 A large portion of Sassda fabricator members' business is over South Africa's borders which makes Africa a key focus for members in 2018! Watch here as our Market Intelligence Specialist Lesley Squires takes us through the current hot spots on the continent

Sassda training can boost your CPD points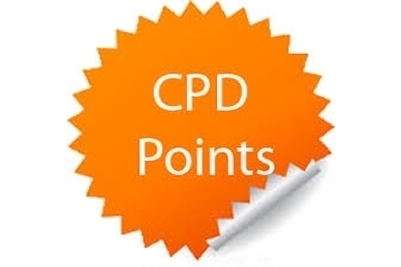 Carrying one CPD point from SAIMechE, the next Sassda Fundamentals of Stainless Steel course is being held at our Edenburg Offices on the 29th of May 2018. 96% of people who attended this course in the last few months said they were highly satisfied and the Net Promoter Scores of each session has been well above global benchmarks
APRIL 2018
Sassda's Brain Train is full steam ahead!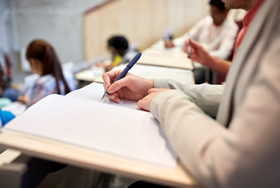 This week saw the Sassda Stainless Steel in Architectural course take place in Durban, KZN with the aim of consolidating on the sterling work we've already conducted in the training sphere in 2018 with two very well received free courses for 45 mechanical and metallurgical engineers from Transnet's Materials Technology and Product Development Divisions and one planned for Eskom
Columbus Stainless learners ready for work placement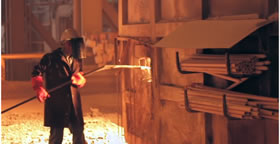 In 2015, Columbus Stainless heeded the call by Government for the business sector to invest in the training and upskilling of South Africa's youth. This has culminated in a number of stringently recruited learners having completed their training programmes, which means they are now equipped to enter the world of work.
2018 Sassda awards gain momentum with a range of sponsors already secured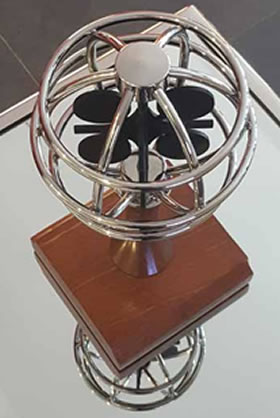 A host of industry leaders have already lent their stamp approval to the 2018 Sassda Columbus Stainless Awards in the form of strategic sponsorships of key categories within the awards. One of the most exciting of these is Macsteel VRN's sponsorship of the Business Excellence category which recognises "companies who are building a sustainable, long-term, thriving business that has demonstrated innovative use of stainless steel in the design and development of products, to become a global leader in the field of excellence" Quite a mouthful but a hugely exciting category nevertheless!
Sassda's Latest Video Release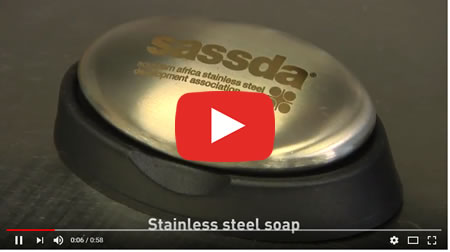 Sassda is rolling out a series of video content on a variety of pertinent topics over the course of 2018. These have been designed to provide key insights in a short, sharp and compelling style that's easy to digest and will hopefully serve as a source of invaluable market intelligence
Sassda 40 Years Ago!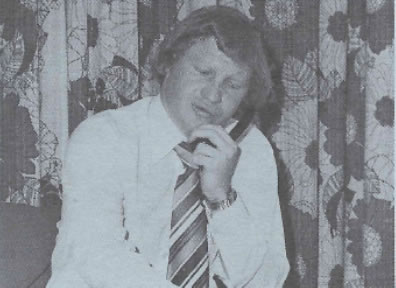 Forty years ago, in April 1978 Sassda wrote about the increasing specification of special alloy steels in South Africa for high integrity applications and the fact that in recognition of this growing demand, Jacksons had appointed  Basil Goldswain as Market Development Engineer, Special Alloys with the brief to develop applications for the special alloys handled by the company, notably 904L
MARCH 2018
It's a New Dawn…it's a New Day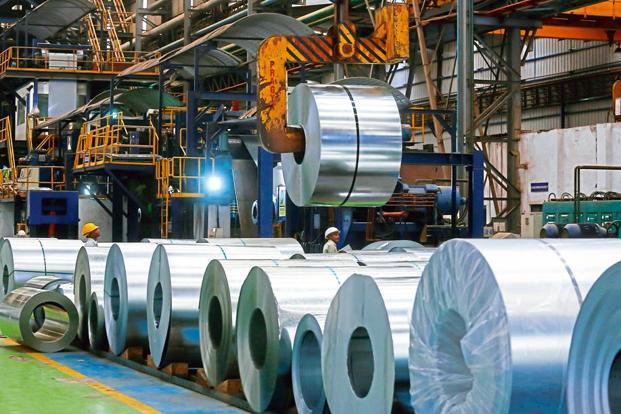 What a difference a week or even a day makes in South Africa right now, where there's never a dull moment when it comes to new presidents and new economic policies. The good news is that the recent State of the Nation Address (SONA) put the spotlight firmly on the state of the stainless steel sector…
2018 Sassda Columbus Stainless Steel Awards Celebrate Innovation
Sassda is proud to announce the official launch of its biennial stainless steel awards which this year centre around the theme 'Celebrating Innovation' with the aim of rewarding world-class thinking and success at a local and international level.
Sassda's New Video Series = Cutting Edge Market Intelligence
Sassda is rolling out a series of video interviews on a variety of pertinent topics over the course of 2018. These have been designed to provide key insights in a short, sharp and compelling style that's easy to digest and will hopefully serve as a source of invaluable market intelligence. Click here to watch the latest in the series: How Sassda's Code of Conduct could have saved the day in KZN
FEBRUARY 2018
Sassda Member pioneers local Stainless Steel Water Pipes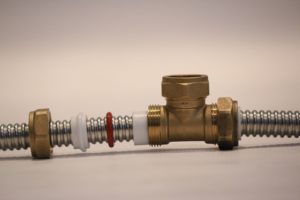 Cape Town's dire water crisis and the rapid approach of the much feared 'Day Zero' is shining a light on the role that corrugated, stainless steel water pipes can play in securing South Africa's long-term municipal water supplies
Regional Round Up 2018!

East or West, stainless steel is the best! We asked Sassda's KZN & Western Cape Regional Managers about their top growth picks for 2018…
Sassda's new video series provides cutting edge market intelligence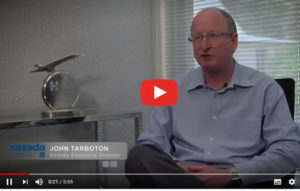 Sassda is rolling out a series of video interviews on a variety of pertinent topics over the course of 2018. These have been designed to provide key insights in a
2017
DECEMBER 2017
Stainless Awards sponsorship packages now available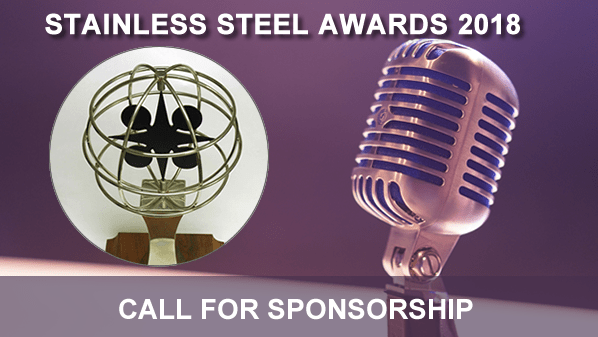 We're gearing up to launch our biennial Sassda Stainless Awards in February 2018 and would like to extend an 'early bird' invite to members who are interested in partnering with us on the sponsorship opportunities that we have available, including the headline Title Sponsorship package. These will provide invaluable exposure of your services/brand to the broad industry, across an array of marketing platforms at very competitive rates. You will also be able to leverage off the anticipated record number of sponsors, entries and award winners as we take these prestigious biennial awards to even greater heights
NOVEMBER 2017
SA's stainless steel hollowware sector gets much-needed shot in the arm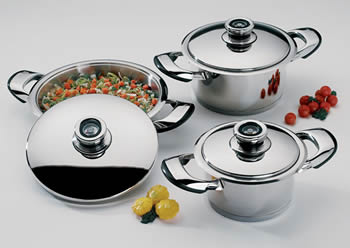 South Africa's stainless steel hollowware (pots and pans) and flatware sectors (cutlery, trays and serving dishes) have felt the effects of an influx of Chinese imports over the last ten years which has all but smothered local production. The good news is a fundamental shift is taking place that has seen the launch of an exciting, newly refurbished plant CTI Systems in Stanger, KwaZulu-Natal.
African export insight
As part of Sassda's mandate of being the 'eyes and ears' of its member on the ground our KZN Regional Manager, Angie Baker, was recently invited to attend a Bureau Veritas roadshow, which was hosted at the ICC in Durban.
Sassda bursary student tackles a major stainless steel challenge!​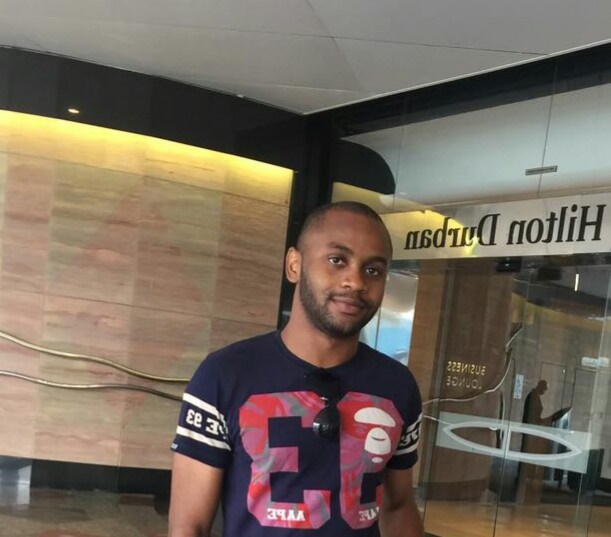 Sassda is investing in the future of the South African stainless steel industry thanks to its year-long sponsorship of 28-year-old Wits University Masters student Abiola Ladenika. His thesis concerns stainless steel thin wall pipe welding, in sectors subject to more stringent health legislation. This is because practically it is far more difficult to achieve healthy joints than to meet structural integrity criteria, particularly with site welding. The work will factor in changing health legislation in the food and beverage industry and provide benefits for the maintenance and fabrication of new stainless steel pipes in process plants.
Strategic partnering enables Sassda to share resources and expand reach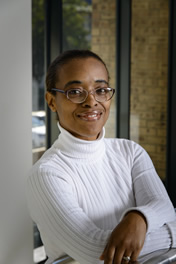 Sassda has embarked on a series of ongoing training programmes focused on the technical and application aspects of stainless steel. The initiative is intended to highlight to specifiers – such as engineers, architects and quantity surveyor – the attributes and benefits of using stainless steel.
Sassda Marketing and Training Manager Mankabe More says; "We are intent on creating alliances through the establishment of complementary training courses optimised for a variety of industry applications. This is to help remove barriers to the greater specification of stainless steel given that it isn't always the cheapest upfront choice for a particular application.
OCTOBER 2017
Sassda announces R125 000 Lifecycle Costing competition winner!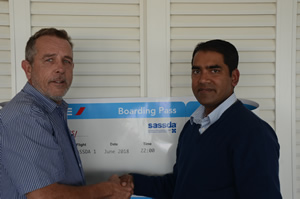 Along with sixty other accurate finalists in sassda's 2017 Lifecycle Costing Competition, the overall winner Amrish Punwasi proved that while stainless steel is can be costlier than other materials initially, it often delivers lower long-term costs in the life-cycle of the construction. The competition required that entrants download sassda's Lifecycle Costing app to calculate the cost savings that could have been achieved if the Eiffel Tower had been constructed out of stainless steel, either 3CR12 or LDX 2101, rather than mild steel. The calculation needed to take the current inflation rate, the cost of capital and the real interest rate into account, together with its ongoing maintenance and painting expenditure.
Sassda facilitates successful member interaction with the dti
A recent trip to two of sassda's Port Elizabeth members stems from the dti wanting to conduct first hand visits to a variety of players in the ferrous metals industry to understand the sector's challenges and see success stories first hand.
Sassda Executive Chairperson John Tarboton comments; "The benefit of these types of visits is that they give invaluable input into policy formulation as they provide first-hand knowledge of the industry. It's all very easy to be theoretical but to really understand the challenges and aspirations of a particular industry; policy makers need to get on the ground and meet the people/companies driving the sector forward. We therefore applaud the dti's efforts in this regard."
SEPTEMBER 2017
Stainless steel has a crucial role to play in fixing SA's water woes
Globally, as much as 35% of all treated water is lost to leaking piping systems with South African levels reaching as high as 60%. This has prompted a stainless steel test project to get underway in Paarl between sassda, local municipal authorities and South African manufacturers in search of the most environmental and economic solution for the country's water-wise future.
Case studies show that 95% of treated water leaks occur in the small diameter service pipes connecting the distribution pipes to the users' water meters. Currently, approximately 40% of Johannesburg's treated water supply is nonrevenue water (NRW), equating to a loss of R1.1 billion per year, of this 73.3% is lost due to pipe leakage.
KZN Manufacturing Indaba 2017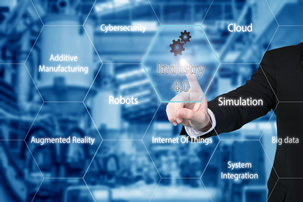 The KZN Manufacturing Indaba was hosted at the Durban ICC on the 14th September 2017. Our KZN Manager, Angie Baker was invited to attend again this year to take part in the conference. Invited Speakers included Dr Tebogo Makube, (Chief Industrial Procurement, Industrial Development Division – the dti), Sihle Zikalala, (MEC Economic, Tourism and Environmental Affairs), Ian Delport, (Head of Industrial Relations – Defy Appliances) and Pat Moodley, (Regional Manager – KZN IDC), to name a few.
AUGUST 2017
Sassda equips members to take advantage of 'hot spot' African projects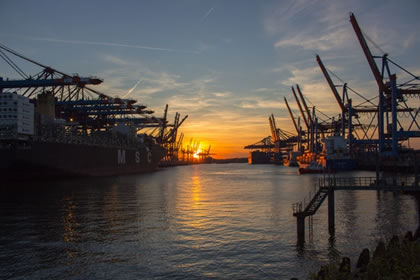 Sassda recently hosted a top-level Africa Rising Market Intelligence Briefing which revealed that Africa still has what it takes, with a healthy recovery in growth rates predicted for the Sub-Saharan African region of 2.6% in 2017 (Source: IMF) and pockets of above average growth in countries such as Cote D'Ivoire (7.3%), Tanzania (7%) and Kenya (5.5%). To equip its members to take advantage of this, sassda provided a range of key insights and top tips on how to leverage the 'African opportunity' and bypass the lack of information and labyrinth of red tape that thwarts many export and investment opportunities before they have even begun
JULY  2017
What's really going on?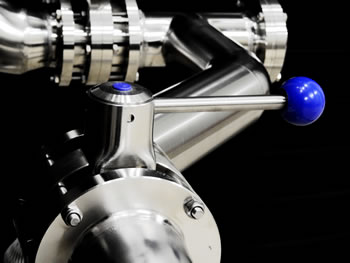 A key aspects of the sassda 2017 AGM was feedback from the association's first Member Satisfaction Survey in three years that was conducted in April 2017, the results of which were extremely encouraging in terms of how the association has performed during the last challenging few years
Manufacturing sector has potential to add 1-million jobs to SA's economy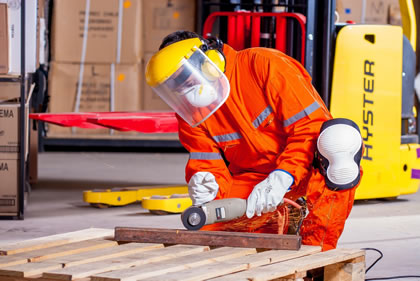 Sassda recently attended the 2017 Manufacturing Indaba held in Ekurhuleni, Johannesburg to find out the current realities facing our members who form part of this vital sector. One of the most interesting presentations at the event was by André de Ruyter of the Manufacturing Circle entitled Kick Starting Industrialisation in South Africa, which pointed out that if manufacturing were to have an appropriate share of GDP in line with South Africa's current developmental stage – i.e. 28% to 32% – a theoretical 800 000 to 1.1-million jobs could be created
Sassda lobbies to increase stainless steel import tariffs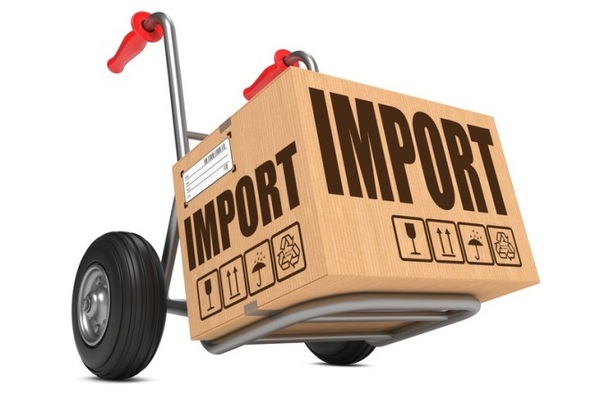 Given that imported finished products, primarily Chinese, surged by 44% last year and the export of finished products dropped by 20% resulting in a situation where we now import 40 000 tons of stainless steel finished products more than we exported, sassda is seeking to start the process of increasing the import tariff i.e. increasing the applied rate to the bound rate) on six HS codes in the downstream stainless steel industry.
IDC launches R1.5-Billion Downstream Steel Industry Competitiveness Fund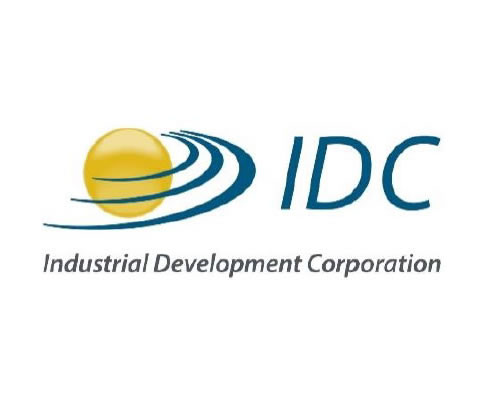 The IDC has announced the establishment of a R1.5-billion Downstream Steel Industry Competitiveness Fund. The dti has informed sassda that this applies to stainless steel as well. The key purpose of the Fund is to assist qualifying enterprises in the downstream steel sectors to improve their competitiveness and assist companies. The IDC will leverage a total R95-million allocation over three years, to create a substantial R1.5-billion Fund, in the form of an interest rate subsidy to normal IDC risk pricing, aimed at improving downstream competitiveness for qualifying firms in the Metals and Engineering sub-sectors.