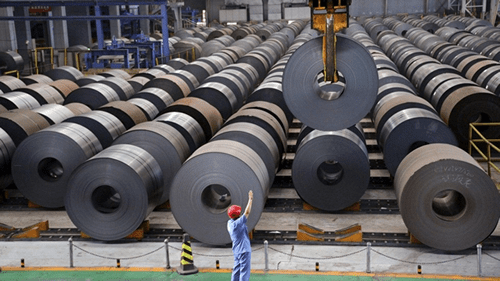 With the global commodity cycle bouncing back, the demand for stainless steel is intensifying, underpinned by backward integration and the recent developments in 4-in-1 stainless steel plants, which cut costs of production, rendering stainless steel even more competitive against comparable materials.
This was the key outtake of the annual ISSF-22 Annual Conference recently held in Shanghai, China and attended by Sassda Executive Director John Tarboton who also toured TsingShan, the world's largest producer of stainless steel.
Highlighting the commodities recovery trend Tarboton says, "Global capital expenditure in mining and petrochemicals is picking up and is forecast to increase until 2020. Stainless steel production is expected to grow at 6% this year and 5% next year with the highest growth rate expected in China (8.2 and 6.2% respectively). By 2025, Indonesia is expected to supply 12% of the world's stainless steel, with China holding steady at 52%. Globally, duplexes are expected to grow at a rate of 7.9% per year for the next decade.
"What was particularly interesting, is that stainless steel is becoming more competitive against competing materials such as aluminium, where prices are increasing due to energy costs, which will stimulate demand for stainless steel in the long-term. Also of note, is China has for the first time produced more than 100 000 tpa of duplex stainless steel of the 360 000 tpa of global production."
Super-plant production
Touted as the Tesla of the stainless-steel industry, TsingShan, a 4-in-1 stainless steel plant produces at a rate of $1 450 per ton compared to Europe at about $2000 per ton. Tarboton reports; "TsingShan produces 7-million tons of stainless steel as well as 220 000 t of NPI, generating $24-billion in annual revenue. It's hugely impressive!
"They use a world-first Rotary Kiln-Electric Furnaces (RK-EF) and Argon Oxygen Decarburisers (AOD) as an integrated process, which is a world first, and lowers the cost of production. They currently produce 100 000 tpa of ferrochromium in Zimbabwe and also import chromite ore but have recently signed a memorandum of agreement to establish a $1bn, 2 mtpa stainless steel plant in Zimbabwe.  At their Fu'an plant they intend to install a vacuum oxygen decarburiser (VOD) and will then be able to produce super ferritic stainless steels along with their current output of 410, 430, 2205, 304, 316, 321, 301, 309S, 310S, J1K, J3, J4, J6, D11 and 2507 super duplex bars. The 8-stand tandem hot mill produces one coil every minute or so; with the entire Fu'an TsingShan operation supported by 19 000 workers that are accommodated on site in residential blocks with full lifestyle amenities on hand."
Water Sustainability
The conference revealed fascinating outcomes in the water sector.  In India, large sectors of the population have no access to running water, creating a demand for stainless steel water tankers. Originally constructed from 304, tankers have become corroded due to poor water quality and are now constructed from 316L with a drive to convert edible oil tankers to stainless steel to improve hygiene.
According to the ISSF, 30 cities in Japan, Korea and Taiwan have adopted and now use stainless steel municipal water service pipes with a key project from the Nickel Institute (NI) and the International Molybdenum Association (IMOA) highlighting plastic piping emits no sound when leaking, whereas stainless steel pipes do and with the use of listening sticks, makes leak detection easier. However, shipping the steel pipe nearly doubles the cost so it is important to ensure local production.
Automotive and Transport
In the automotive sector India's success story has seen plans for 60 000  rail cars being built from stainless steel in combinations of 3CR12, 304 and 316, which has also been specified for the bio digesters on the trains. Already 125 000 bio digesters have been built totalling 25 000 t of 316 stainless steel.
New market opportunities were seen in Battery/Fuel Cell Electric Vehicles (BEV/FCEV) with a range of 500 km serviced by 300 hydrogen fuel stations. Synthetic fuels vehicles offering a potential range of 1000 km offer further potential for applications for stainless steel.
Tarboton concludes; "Bridges remain a key focus, along with architecture such as facades, although the challenge here is consistency of finish. Low reflectance finishes and patterned finishes on 2205 have been developed and  there is a new Indian standard for stainless steel rebar, which includes 304, LDX 2101, 2304, 2205 and 409L."