A look at how a South African stainless steel company's experience is shining at Nike's Oregon headquarters
When local but world-renowned sculptor Marco Cianfanelli was working on his latest commission, a sculpture representing the life and times of long-time Nike athlete Sebastian Coe, he approached Johannesburg-based construction company Spiral Engineering for their unique approach to steelwork to help him put the piece, titled Pulse, together. With a reputation to do the impossible, Spiral Engineering took on the challenge with gusto.
The only trouble was, the 26 m long, 3.5 m wide sculpture was to be installed as an homage to the inspiration for the Sebastian Coe building at Nike's HQ near a town called Beaverton in Oregon, USA. As Colin Kirkland, Spiral Engineering's Managing Director, explains, "Marco was faced with the decision to either manufacture locally and export the commission, or have it fabricated in Portland, USA. We think it a feather in our cap that he had the confidence in our ability to provide the accuracy and quality of fabrication for a commission of this stature. As a result, the entire sculpture was built and assembled in our Industria yard in Johannesburg, where each item was numbered and fabricated to exacting standards. The structure was then disassembled, wrapped and packaged for loading into shipping containers for shipment to the USA." Once the containers arrived safely in Oregon, they were promptly unpacked in order to reassemble and install the sculpture within three days.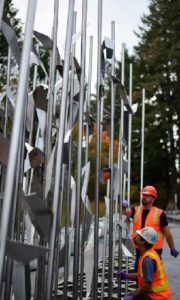 This is not the first time Cianfanelli – who is most known for his monumental fragmented portrait sculpture of Nelson Mandela titled Release – has worked with the Spiral Engineering team. Their successful alliance began in 2015, when Spiral engineering worked with him to manufacture a stainless steel Nirox sculpture in 2015 for a client's residence in the Southern Cape.
It's their innovative approach and team of industry specialists that make such fruitful partnerships a Spiral Engineering calling card, such as that they have with Jakob Rope Systems of Switzerland. The company got started in 1990 manufacturing spiral staircases, stairs and balustrades – but they had an eye for progress.
Over the past 28 years, Spiral Engineering has stood at the forefront of South African architecture, and they are members of both the South African Institute of Steel Construction as well as the Southern Africa Stainless Steel Development Association. Their work in incorporating architectural structures and greenwalls for high-profile commercial developments, such as Sun International, Discovery, Sasol and more, has earned the company numerous industry awards.
Read more about their repertoire of projects at spiralengineering.co.za