Sassda produces a number of publications aimed at increasing the awareness of stainless steel, as well as educational and technical leaflets and videos. In addition, several sectors have produced their own brochures reflecting members capabilities. All available from Sassda's Offices.
Stainless Steel Magazine
This bi-monthly magazine is the official journal of the Association and promotes the awareness and usage of stainless steel, featuring different facets of the industry and reports on current activities and product news both locally and overseas. It also keeps readers up to date on Sassda news and activities.
Stainless Steel has an international circulation of over 4,000 readers involved in the stainless steel industry including primary manufacturers, distributors, stockists, fabricators, converters, consultants, designers, architects and end users.
This magazine is free to all members and residents of South Africa, but there is a subscription charge for overseas recipients.
Click here for more information to to subscribe to Magazine
Stainless Steel Buyers Guide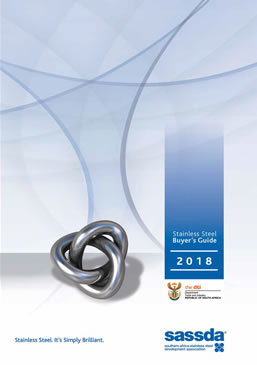 This is the only comprehensive buyer's guide to the stainless steel industry in Southern Africa. Internationally recognized, its concept and format have been used by other stainless steel development associations as the basis for their own reference guides.
It contains a wealth of valuable information, from technical data on all aspects of stainless steel to a comprehensive list of products and services available from Sassda members.
Click here for more information and to order
Guide to Stainless Steel Specifications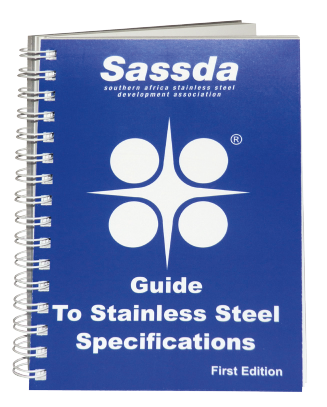 Sassda's GUIDE TO STAINLESS STEEL SPECIFICATIONS has been developed as a quick and easy-to-use stainless steel reference source, which will be of interest and assistance to engineers, designers and materials specifiers in South African industry.
The Guide lists all ASTM and EN stainless steel specifications, arranged by product type. The relevant tables from the 25 most important of these standards are reproduced in full. In addition, there is an Equivalence Table which links the ASTM types (AISI and UNS) with the EN types (name and number). The Guide also contains a stainless steel grade index which allows easy reference to the applicable specifications, using all the naming conventions including AISI, UNS, ACI, EN, etc.
The guide is available to registered Sassda members for R650.00 and R950.00 for non-members, including VAT.
Click here for more information