Approximately 90% of a brewery is made from stainless steel
Stainless steel is the preferred choice of material when it comes to building breweries. SAB's Alrode malting plant is no different, with about 90% of the equipment made from stainless steel.
The plant was built in 1965, and although there have been massive developments and infrastructure upgrades during this time, stainless remains the core of the brewery.
There are multiple reasons for the use of stainless in the brewing process, from flavour and hygiene to cleanability, brewing pH levels, strength, wear and tear and life cycle costing.
ALRODE BREWERY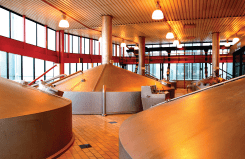 Alrode is the largest brewery in South Africa, with Rosslyn currently hot on its heels. Alrode currently has the capacity to produce 176 000hL of beer per week, or 8.8 million hL a year, which is 30% of SAB's domestic volume of 31.4milion hl. It takes 900 tonnes of stainless steel to build a 1 million hl/year plant, so this would need more than 8 000 t of stainless steel.
To put that in perspective, Alrode's annual 8.8million hL of beer would be able to fill 355 Olympic sized swimming pools and SAB's total annual beer production capacity would be able to fill 1 256 Olympic sized swimming pools.
Anton Erasmus, the trade brewer at SAB Alrode, says Alrode is currently performing at an impressive 87% of capacity.
Alrode is a bottling plant, no cans, and produces the stable's 6 brands: Castle lager, Carling Black Label, Hansa Pilsner, Castle Milk Stout, Castle Light and Miller Genuine Draft.
These all come in packaging options of 750ml RB, 660ml RB, 500ml RB, 330ml RB, 340ml NRB, 330ml NRB and 440ml NRB.
The brewery has 3 Steinecker brewhouses, which take care of the mashing processes. Two have a capacity of 600hL brewlength each, and the third has a 1500hL brewlength. It has 96 fermentation vessels and 60 maturation vessels, each of these are 5.5m diameter by 23m tall and each hold 3 000hL. And it has 26 bright beer tanks and 5 packaging lines.
SAB Alrode has a brewing capacity of 176000hL per week and a packaging capacity of 205 000hL per week – barely enough to keep up with demand.
WHY STAINLESS 
HYGIENE AND FLAVOUR
Cleaning and sanitation are an integral part of a brewery and should be taken into consideration at every phase of the beer brewing process. Cleaning prepares the way for sanitation treatment by removing organic/inorganic residues and microorganisms from the brewery equipment. Sanitation reduces the surface population of viable microorganisms after cleaning and prevents microbial growth on the brewery equipment.
Hygiene is crucial as brewing is a form of food processing and contamination with microorganisms can also significantly affect the flavour of the beer.
Other factors that may affect the flavour of the beer is the storage, fermentation and resting tanks, as any leaching from the tanks can affect flavour.
CLEANABLITY
Stainless steel allows for easy cleaning of the tanks. Cleaning In Place (means tanks can be cleaned with high pressure sprays, via spray-balls, and caustic and organics acids after each brewing run. Stainless steel ensures there is no rusting or degradation of the tanks during this process. The brewing vessels at SAB Alrode are more than 25 years old and exhibit no rusting or wear and tear. They have not needed to be maintained or replaced despite the constant need for cleaning and continued hygiene control.
LIFE CYCLE COSTING
Alrode Brewery is a great example of the life cycle costing of stainless steel. Despite extreme cleaning conditions, pH fluctuations during the brewing process, the need for strength and limited down time, the brewing vessels, pipes, packaging lines and other equipment are still in perfect condition and require no maintenance. The only equipment that requires regular maintenance are the pumps, valves, sensors, and instruments.
Once again stainless steel has proven to be the ideal material of choice, and a 90% plant proves this beyond doubt.