World Power Products is not only renowned for its industry leading custom-built work but also for providing a wide range of standard, in-house designed, off-the-shelf products manufactured locally to world-class quality and available at highly competitive prices.
World Power Products, the 100% South African-owned manufacturer and specialist fabricator of high-precision sheet metal products, has for over 50 years provided extensive design, fabrication and finishing facilities at its Johannesburg South headquarters.
Since its founding in 1963 by the late Peter Bahlig as a parts production and repair business, World Power Products has, under the capable leadership of Bahlig's son, Mark, and Managing Director, Jan Görtzen, developed into a specialist sheet metal manufacturer. High-precision, custom-designed sheet metal products account for 70% of its production with the balance focused on standard off-the-shelf mild steel and stainless steel cabinets, enclosures, storage systems, locks and hinges as well as busbar systems manufactured for local and international electrical, electronic, telecommunications and IT equipment industries.
While the electrical industry is World Power Products' primary market, the company's predominantly Gauteng-based customer portfolio straddles a wide range of sectors including electronic, mining, petrochemical, power generation, telecommunications, automotive, aviation, medical, military, materials handling, hydraulics and industrial storage.
The three world-class quality industrial enclosure ranges from World Power Products include the PB 3000 enclosure for housing 19" equipment, electronic modules and data link modems, the stainless steel Dolphin series, an ideal enclosure solution for smaller electric, hydraulic and pneumatic applications and the Perano series, manufactured in mild steel suited for general purpose applications.
Görtzen says: "All our products are manufactured from original, innovative and unique in-house designs which are highly adaptable to offer customers and end users maximum versatility. The fact that our 'home-grown' products are available from an on-demand store allows customers and end-users with immediate receipt of their goods. Buying directly from the manufacturer also holds a distinct price advantage."
World Power Products supplies off-the-shelf perforated sheets used for screening, filtration and separation in the minerals, mining, water effluent treatment, catering, petroleum, beverage, bottling plants and agricultural industries. Standard high quality perforation sieves for the catering industry are also available. "We can supply both products with a variety of perforations including round, square and slotted," elaborates Görtzen. The perforated sheets with perforated areas can also be supplied in special geometric shapes (trapezoidal, circular crowns) and with different plating finishes. Other perforations include decorative patterns for architectural purposes.
MANAGEMENT TEAM
The company owes its success to a forward-thinking and proactive management team. When Görtzen took over the reins three years ago, ably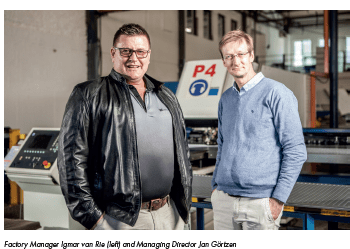 assisted by Factory Manager, Igmar van Rie, they immediately recognised the need for change. "Transformation was crucial to ensure that in a protracted tough economic environment, we maintain our position and competitive edge as one of South Africa's leading players in sheet metal manufacture," state Görtzen and Van Rie. "To effectively meet economic pressures and industry challenges, we analysed every aspect of the business in order to identify what processes can be streamlined, where we can work smarter, where we can improve efficiencies and where we can save both time and money so that we could offer our customers the best value for their money."
Transformation was based on the company's prestigious history and strengths. World Power Products' more than 50 years of experience in sheet metal manufacturing presented a solid foundation that was pivotal to the company's 'reinvention', the term used by Görtzen and Van Rie to describe the company and the staff's inspiring three-year journey of transformation.
CNC laser cutting, punching, bending, MIG/TIG welding, powder coating, assembly, gasketing, CNC milling and turning, plating, tool making and die casting and plastic injections were originally spread out over five different factory sites. These expansive value-adding capabilities set the company apart from its nearest rival. So, in order to gain better control over and streamline these processes, consolidation was one of the first steps in the company's evolution. "Consolidation of the entire business on two adjacent properties has given us better control over our processes which has resulted in faster turnaround times for our customers," says Van Rie, adding that the turnaround time for large volumes is within an impressive two to three weeks.
"Skilled personnel are fundamental to producing quality products and delivering high levels of service," continues Görtzen. "We implemented training programmes to develop a highly qualified team of experts armed with the necessary knowledge and know-how to take care of any project, from design to final delivery. Görtzen also says training not only benefits the company and customers through quality work but also improves the lives of individuals.
Innovative thinking is encouraged by management and Görtzen and Van Rie reveal that product development has resulted in a new range of standard enclosures which will be aimed at the entry level market. "We are also expanding our market footprint into the renewable energy sector," adds an upbeat Görtzen.
Görtzen says that during reinvention, they successfully implemented the five methods to energize productivity and efficiencies namely eliminate, optimate, renovate, coordinate and consolidate. "World Power Products has emerged as a lean, highly efficient and reliable sheet metal fabrication partner that sustainably delivers quality products on time at competitive prices."
"To continue bringing our quality product line up to our customers has not been an easy journey nor do we expect it to get any easier," comments Görtzen. "The South African manufacturing industry is under tremendous strain in the face of some immense challenges. In addition to having to deal with stringent labour laws, prescribed wage increases, rising steel prices and ever shortening customer lead times, Chinese imports sold at cut-rate prices present another obstacle."
South Africa's unemployment rate increased to 26.7 percent in the three months to March of 2016 from 24.5 percent in the previous quarter and above market expectations of 25.3 percent. "South African manufacturers are the stanchions for job creation and we want to create more employment as well as to upskill our employees through regular training," continues Görtzen.
But while we are addressing our high unemployment rate, let us not forget that the rest of the world is moving to less labour intensive operation with more and more factories becoming automated. The outcome is faster, accurate performance. He adds that job creation and upskilling also places pressure on the bottom line.
In order to be sustainable and remain in business, companies across industries are constantly searching for ways to drive down operational and input costs, drive up production and profitability, deliver world-class quality products at competitive prices, while reducing their environmental footprint. World Power Products is no exception. To maintain its position and competitive edge as one of South Africa's leading players in sheet metal manufacture, the management team recently completed an inspiring three-year journey of transformation. Görtzen explains: "To effectively meet tough economic pressures and industry challenges we reinvented ourselves by analysing every aspect of the business and identifying what processes could be streamlined, where we could work smarter and improve efficiencies and where we could save time and money so that we could offer our customers the best value for their money. We continue to deal with every uphill head on and while some challenges have been tough, we have embraced them and implemented them carefully and intelligently making sure that it is to the advantage of the company to ensure a future for all our employees. When we see opportunities we seize them."
World Power Products' management team is confident and positive about the future. "There are so many opportunities in South Africa; you simply just need to know where to look. It is important that we continue educating people about the advantages of supporting local businesses and buying South African brands; the quality is as good as and often even better than international offerings. We must remain attentive to changing laws and remain proactive." Wrapping up Görtzen says that they are in the process of finalising their BEE compliancy. "We have given a lot of attention and effort to this important area to ensure that we are truly a proudly South African company representative of our rainbow nation."