Brewin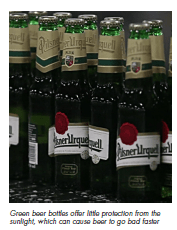 g is typically divided into 9 steps: milling, malting, mashing, lautering, boiling, fermenting, conditioning, filtering, and filling.
MASHING
Mashing is s the process of mixing milled, usually malted, grain with water, and heating it with rests at certain temperatures to allow enzymes in the malt to break down the starches in the grain into sugars.
LAUTERING
Lautering is the separation of the extracts won during mashing from the spent grain to create wort. It is achieved in a lauter tun, a wide vessel with a false bottom. Lautering has two stages: first wort run-off, during which the extract is separated in an undiluted state from the spent grains, and sparging, in which extract that remains with the grains is rinsed off with hot water.
BOILING
Boiling the wort ensures its sterility, helping to prevent contamination with undesirable microbes. During the boil, hops are added, which contribute aroma and flavour compounds to the beer, especially their characteristic bitterness. Along with the heat of the boil, they cause proteins in the wort to coagulate and the pH of the wort to fall, and they inhibit the later growth of certain bacteria.
FERMENTING
Fermentation begins as soon as yeast is added to the cooled wort. This is also the point at which the product is first called beer. It is during this stage that fermentable sugars from the malt are metabolized into alcohol and carbon dioxide. At the end of fermentation, the yeast and other solids have fallen to the cone's apex can be simply flushed out through a port at the apex.
CONDITIONING
When the sugars in the fermenting beer have been almost completely digested, the fermentation process slows and the yeast cells begin to die and settle at the bottom of the tank. At this stage, especially if the beer is cooled to around freezing, most of the remaining live yeast cells will quickly become dormant and settle, along with the heavier protein chains, due simply to gravity and molecular dehydration.
FILTERING
Filtering the beer stabilizes flavour and gives it a polished, shiny look. It is an optional process. The filtered product finally passing into a calibrated vessel for measurement just after any cold conditioning and prior to final packaging where the beer is put into the containers for shipment or sale. Sterile filters remove almost all microorganisms.