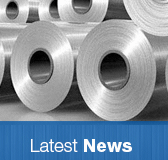 11 April 2017
Promise of Stainless Steel underminded by fly-by-night Fabricators
In a tough economy, consumers veer towards the cheapest option and some contractors may be tempted to cut corners. Unfortunately, contractor mistakes cost a fortune, mistakes kill profits and both parties usually blame the other, and often stainless steel itself, through angry exchanges that waste time – so what happens when stainless steel contractors fail to deliver on promises?
06 March 2017
Stainless Steel app gives users chance to win R125 000 trip to Paris!
The Southern Africa Stainless Steel Development Association (sassda) has launched an exciting new competition in which entrants (e.g. engineers, architects, quantity surveyors, end-users and specifiers and members of the public) stand to win a trip to Paris worth R125 000! 
17 February 2017
Municipal Stainless Steel Solutions could save SA Millions in Water Losses
With South Africa experiencing Stage 2 and 3 water restrictions following its worst drought in decades
The Stainless Steel Magazine

This bi-monthly magazine is the official journal of the Association and promotes the awareness and usage of stainless steel, featuring different facets of the industry and reports on current activities and product news both locally and overseas. It also keeps readers up to date on Sassda news and activities.

The Stainless Steel Buyers Guide 2015

This is the only comprehensive buyer's guide to the stainless steel industry in Southern Africa.

Be all you can be. Change the course of your Future

The Southern Africa Stainless Steel Development Association (SASSDA) is committed to the...