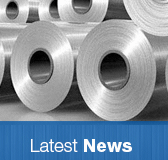 14 August 2015
Manufacturing Indaba Durban
A very successful Manufacturing Indaba Kwazulu-Natal was held at the International Convention Centre in DURBAN on 21-22 July 2015.
31 July 2015
Sassda Creates Stainless Awareness at Cape Industrial Showcase
The Cape Industrial Showcase is the largest and longest-running industrial trade show in the Western Cape and it has a successful track record dating back to the mid-1980s. This year, there were over 2000 visitors. The Sassda stand created a great deal of interest.
09 July 2015
Rosatom and South Africa develop cooperation in the nuclear power industry
At the 7th BRICS summit, the State Corporation Rosatom and the Department of Energy of South Africa signed two Memoranda of Understanding

The Stainless Steel Buyers Guide 2015

This is the only comprehensive buyer's guide to the stainless steel industry in Southern Africa.

Be all you can be. Change the course of your Future

The Southern Africa Stainless Steel Development Association (SASSDA) is committed to the...