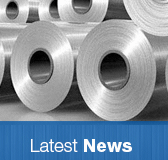 15 May 2015
Amendment Codes of Good Practice
On the 5th May 2015 the Department of Trade and Industry published a notice regarding the implementation of the Revised BEE codes as well as the Revised Sector Codes. The positive impact is that the DTI have extended the effective date of the Revised Codes for all businesses with a financial year ending before 30 April 2015.
11 May 2015
What China's Economic Shift Means for Africa
Current structural changes in China's economy will have significant implications for Africa's developmental ambitions. 
 28 April 2014
Stainless Steel Production Reaches 41.7 Million Metric Tons in 2014
The International Stainless Steel Forum (ISSF) has released figures for the full year 2014 showing that stainless steel melt shop production increased by 8.3% year–on–year to 41.7 million metric tons (mmt). Production increased in all regions except for Central and Eastern Europe.

The Stainless Steel Buyers Guide 2015

This is the only comprehensive buyer's guide to the stainless steel industry in Southern Africa.

Be all you can be. Change the course of your Future

The Southern Africa Stainless Steel Development Association (SASSDA) is committed to the...

Date :  4 June 2015
 To be held at Henley Business School from 07h30 to 12h30