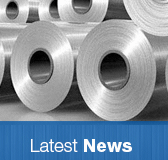 Results of the October Short Track Survey
Sassda has released its latest Short Track Survey (October 2017), which reveals the current and future outlook for members in terms of their current order situation and business outlook.
---
19 October 2017
Sassda announces R125 000 Lifecycle Costing competition winner!
Along with sixty other accurate finalists in sassda's 2017 Lifecycle Costing Competition, the overall winner Amrish Punwasi proved that while stainless steel can be costlier than other materials initially, it often delivers lower long-term costs in the life-cycle of the construction.
---
29 September 2017
Stainless steel has a crucial role to play in fixing SA's water woes
Globally, as much as 35% of all treated water is lost to leaking piping systems with South African levels reaching as high as 60%. This has prompted a stainless steel test project to get underway in Paarl between sassda, local municipal authorities and South African manufacturers in search of the most environmental and economic solution for the country's water-wise future.
---
The Stainless Steel Magazine

This bi-monthly magazine is the official journal of the Association and promotes the awareness and usage of stainless steel, featuring different facets of the industry and reports on current activities and product news both locally and overseas. It also keeps readers up to date on Sassda news and activities.

The Stainless Steel Buyers Guide 2015

This is the only comprehensive buyer's guide to the stainless steel industry in Southern Africa.

Be all you can be. Change the course of your Future

The Southern Africa Stainless Steel Development Association (SASSDA) is committed to the...