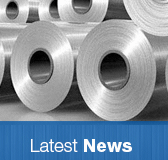 22 September 2016
New research data set to stimulate trade growth for Stainless Steel sector
Two years of intensive research by the Southern Africa Stainless Steel Development Association (sassda) in association with the Steel and Engineering Industries Federation of Southern Africa; now gives local stainless steel fabricators insight into growth opportunities in new export markets as well as import substitution within the South African market.
17 August 2016
New App lifts the lid on stainless steel's lower life cycle costs
One of the biggest obstacles to the specification of stainless steel in certain applications, is the misperception that it's more expensive in comparison to other initially cheaper options.
15 August 2016
Multimillion Rand Africa Projects Offer Huge Potential For SA Stainless Steel Supply
Strategic trips by the Southern Africa Stainless Steel Development Association (sassda) to Tanzania, Senegal and Mozambique as part of the dti's Export Marketing and Investment Assistance Scheme (EMIA) have yielded a number of exciting, 'new market' opportunities for local companies wishing to ramp up their returns on existing or potential African investments.

The Stainless Steel Magazine

This bi-monthly magazine is the official journal of the Association and promotes the awareness and usage of stainless steel, featuring different facets of the industry and reports on current activities and product news both locally and overseas. It also keeps readers up to date on Sassda news and activities.

The Stainless Steel Buyers Guide 2015

This is the only comprehensive buyer's guide to the stainless steel industry in Southern Africa.

Be all you can be. Change the course of your Future

The Southern Africa Stainless Steel Development Association (SASSDA) is committed to the...