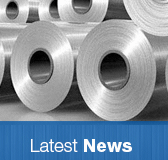 17 February 2017
Municipal Stainless Steel Solutions could save SA Millions in Water Losses
With South Africa experiencing Stage 2 and 3 water restrictions following its worst drought in decades
13 December 2016
Stainless Steel in Architectural Applications
The first recorded use of stainless steel in the Architectural Sector of the market is the roof cladding of the iconic Chrysler Building in New York City, which was completed in 1930 and remains a shining example of aesthetically pleasing and long lasting benefits which stainless steel offers to Architecture.
05 December 2016
Sassda Facilitates Cross Border initatives with leading Kenyan Stainless Steel Fabricator
A sassda facilitated visit by one of its members, Kenyan-based stainless steel fabricator Desbro Engineering to a number of South African counterparts has resulted in a training partnership between the South African Institute of Welding (SAIW) as part of a joint initiative to boost the skills base within the Kenyan stainless steel sector.

The Stainless Steel Magazine

This bi-monthly magazine is the official journal of the Association and promotes the awareness and usage of stainless steel, featuring different facets of the industry and reports on current activities and product news both locally and overseas. It also keeps readers up to date on Sassda news and activities.

The Stainless Steel Buyers Guide 2015

This is the only comprehensive buyer's guide to the stainless steel industry in Southern Africa.

Be all you can be. Change the course of your Future

The Southern Africa Stainless Steel Development Association (SASSDA) is committed to the...