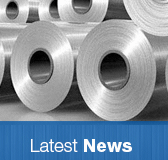 28 January 2016
Towards a sustainable stainless steel industry in SA
MechTech talks to sassda executive director, John Tarboton, about the current state of the stainless steel industry in South Africa and the association's outlook.
28 January 2016
Columbus Stainless: A plant tour
MechTech takes a tour of South Africa's Columbus Stainless plant in Middelburg and talks to Lucien Matthews, the company's CEO.
14 December 2015
South African stainless steel sector expected to sidetrack in 2016
South Africa's stainless steel consumption, which has recovered from the slump experienced during the 2009 recession, is expected to track sideways in 2016.
12 November 2015
Safety of using stainless steel in food preparation 
ISSF welcomes the publication of an independent report, commissioned by Team Stainless, confirming the continuing safety of using stainless steel in food preparation, following the introduction of new test criteria in Europe.

South African Stainless Steel Sector expected to track sideways in 2016 - Engineering News Interview 
The Stainless Steel Magazine

This bi-monthly magazine is the official journal of the Association and promotes the awareness and usage of stainless steel, featuring different facets of the industry and reports on current activities and product news both locally and overseas. It also keeps readers up to date on Sassda news and activities.

The Stainless Steel Buyers Guide 2015

This is the only comprehensive buyer's guide to the stainless steel industry in Southern Africa.

Be all you can be. Change the course of your Future

The Southern Africa Stainless Steel Development Association (SASSDA) is committed to the...