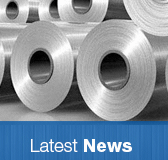 09 July 2015
Rosatom and South Africa develop cooperation in the nuclear power industry
At the 7th BRICS summit, the State Corporation Rosatom and the Department of Energy of South Africa signed two Memoranda of Understanding
02 July 2015
Fabrication for Processing Plants Subject to Health Regulation
Inadequate welded joints can compromise product quality in an otherwise hygienically designed plant. Poor joints and/or welding can trap biofilm, the source of bacteria and may also lead to Microbial Induced Corrosion.
01 July 2015
The Zambia Copperbelt Mining & Agricultural Show 2015
Took place in Kitwe from 26 – 31 May 2015. In general the show was well attended by both the Public as well as Government officials including the recently elected Zambian President Mr Edgar Lungu.
12 June 2015