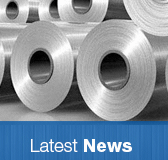 12 November 2015
Safety of using stainless steel in food preparation 
ISSF welcomes the publication of an independent report, commissioned by Team Stainless, confirming the continuing safety of using stainless steel in food preparation, following the introduction of new test criteria in Europe.
04 November 2015
Jobs Fund new round briefing session invitation
The Innovation Funding window aims to fund any business that will create jobs in an innovative manner. Interventions must focus on projects that have potential to create jobs on a large scale and promote broader systemic impact. The Jobs Fund will be hosting provincial briefing sessions on its new funding round.
12 October 2015
Manufacturing Indaba - Cape Town
Join us at this year's most important manufacturing event – the Manufacturing Indaba Western Cape Conference, taking place on Friday, 6 November 2015, at the Cape Town International Convention Centre, Cape Town.  

The Stainless Steel Magazine

This bi-monthly magazine is the official journal of the Association and promotes the awareness and usage of stainless steel, featuring different facets of the industry and reports on current activities and product news both locally and overseas. It also keeps readers up to date on Sassda news and activities.

The Stainless Steel Buyers Guide 2015

This is the only comprehensive buyer's guide to the stainless steel industry in Southern Africa.

Be all you can be. Change the course of your Future

The Southern Africa Stainless Steel Development Association (SASSDA) is committed to the...