WINNER
ANTONINI DARMON ARCHITECTS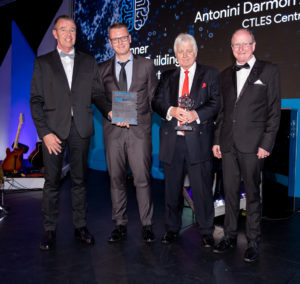 Judges Comments:
For creating a beautiful modern architectural signature, blending in with the environment, true to form and function, making dramatic use of reflectivity, and demonstrating a complete understanding of stainless steel's characteristics
MATCHING INTERNATIONAL DESIGN WITH LOCAL INGENUITY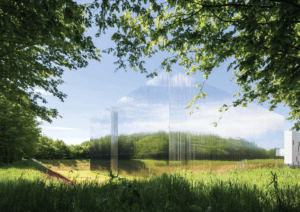 Perfecting a balance between fineness of construction details, environmental quality and efficiency of internal composition, Antonini Darmon  architects matched their local design ingenuity with an extension on to the internationally acclaimed Dominique Perrault designed CTLES Centre in France.
The extension, intended to archive documents from the libraries of universities and research centres in the Paris region, as well as from the French National Library, is set to ensure proper conservation of the archives; the easy flow of documents; and ease for the user.
Architectural styling and a logical layout create a harmonious and natural extension to the original structure; while maintaining the consistency and integrity of the existing building according to Perrault's designs.
Relying on three major functional principles, two silo buildings conserve the document collections, served by a central gallery with natural light, secured by an enveloping skin, bringing together all the technical requirements on the periphery.
Featuring veined stainless steel, the extension is entirely clad to bring bright contrasts to the dullness of the original aluminium; while the mirrored aspect permits the building to reflect and disappear into its surroundings.
1ST RUNNER-UP
ARGOWELD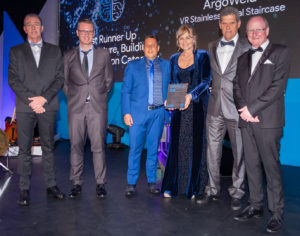 Judges Comments:
For designing an innovative and uncompromisingly brilliant spiral staircase, using stainless steel as a fully functional and aesthetic masterpiece
INNOVATIVE SPIRAL STAIRCASE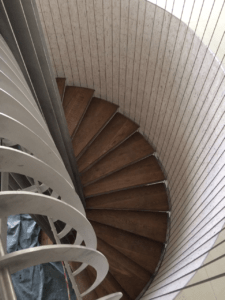 A luxurious setting called for luxurious design facilitation in stainless steel when ArgoWeld was approached by Karel Keuler Architects to assist with the design and manufacture of a spiral staircase to link two upmarket Sandton apartments.
Uncompromising excellence of the technical design featured a fully laser-cut process of precision fabrication and a unique styling of the hollow centre column and crown. This design required 2 600kg of stainless steel parts to be transported and assembled in parts, into precise positioning for execution of the installation.
Stainless steel cabling was then fixed vertically to create the encasement of the stair well. With such emphasis on attention to detail and accuracy, ArgoWeld's Steven Roger-Lund was able to install the spiral staircase in just four days.
2ND RUNNER-UP
STEEL STUDIO INTERNATIONAL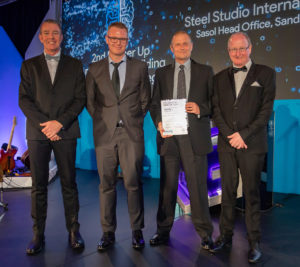 Judges Comments:
For designing and installing balustrading featuring curved bar as a refreshing design element

A REVOLUTIONARY AESTHETIC IN A CORPORATE APPLICATION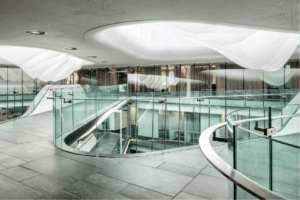 Designed and installed to complement an iconic building, Steel Studio's bent glass balustrade system for the Discovery Head Office in Sandton triumphs as a visually appealing and customised, aesthetic design.
With a design brief that called for glazed balustrades, side mounted to slab edges in a mild steel channel, the balustrade channel was required to follow the complex organic shapes of the atriums calling for the design of a combination of curved, facetted and straight channels. A stainless steel handrail was also required to attach to the glass structure with unique cast stainless steel handrail brackets. A first for the project was the use of multiaxis laser scanning, to accurately scan and plot the lines and levels of the project.
MERIT AWARD
SPIRAL ENGINEERING AND NF INOX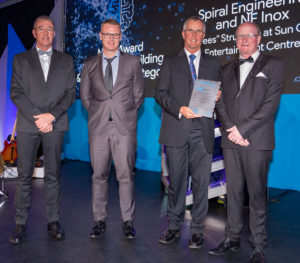 Judges Comments:
For designing stainless steel trees, using special lighting features with colour changes providing an ever-changing spectacular experience
MERGING DRAMATIC DESIGNS WITH NATURE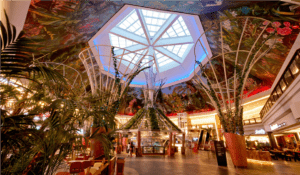 Spiral Engineering's towering stainless steel tree structures at Sun City Entertainment Centre not only bring a green, eco-friendly element to the venues enclosed interior, they feature an ever-changing light experience across the structures on entering the complex.
Designed to exacting sizes and clad in Jakob Rope System Webnet, each tubular tree is assembled to precise fabrication tolerances to support live plants watered through self-drip plant trays. Excess water drains into water reservoirs within each column support and is recycled back up, into the structure.