WINNER
ROCK SOLID INDUSTRIES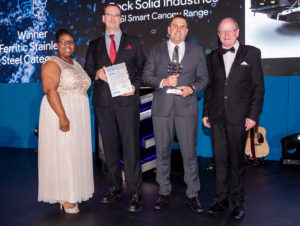 SMART CANOPY HAS GOT IT COVERED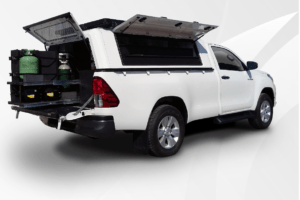 Functional, durable and offering all the benefits of grade 409 stainless steel lifecycle costings (LLC) featured throughout their entire SmartCanopy range, Rock Solid Industries (RSI) effectively educates and demonstrates to their customers the advantages of stainless steel.
Catering to a wide range of industries  which includes specialised commercial fleets, RSI's advances in product design and manufacturing techniques have led to the development of strengthened products with a reduced weight, growing their product offering to compete with traditional fiberglass
and aluminium canopy manufacturers.
Their SmartCanopy range features a modular design that comprises just five main parts that are bolted together into a patented design. Easy to assemble and with replaceable parts, it offers a complete knock-down flat pack solution which is already revolutionising the canopy industry.
Meeting the ISO 9001:2015 and TUV Certified requirements, advances in their latest TUV specifications include solid side panels (complete sleeve) which have reduced the weight and strengthened the overall canopy structure.
Eco-friendly with a comprehensive warranty and reduced logistical costs, the SmartCanopy range is set to take on the fibreglass market aggressively with launch of their latest SmartCanopy Evo design, which is 100% recyclable, offers improved functionality and has the benefits of their TUV spec, and has been made possible through new technology in sheet metal forming which RSI has recently invested in.
Judges Comments:
For offering sustained high-quality and customised services to the stainless steel industry for many years, this industry  leader is a highly competent manufacturing business with the management team in sync and in close contact with the product and employees