WINNER
SENIOR FLEXONICS SA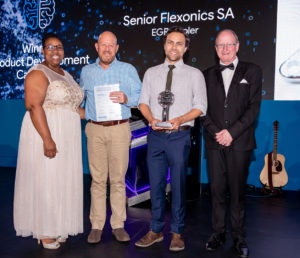 Judges Comments:
For developing and adapting designs that can be economically manufactured to the standards and in the quantities required minimising harmful fumes
COOL INNOVATION REVS UP THE GLOBAL MARKET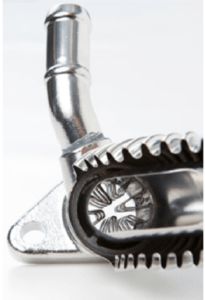 As part of the international automotive industry, Senior Flexonics currently manufactures more than 13 000 EGR coolers for automotive application per year for export to Europe; made possible through its cutting edge Vacuum Brazing technology.
Working in collaboration with a sister company in Wales to establish a design and manufacturing procedure, the exhaust gas recirculation (EGR) is a nitrogen oxide (NOx) emission reduction technique used in petrol and diesel engines, which also serves to increase efficiency through better fuel consumption.
It does this by lowering the temperature of exhaust gases recirculated by the EGR, thereby decreasing the NOx emissions.
Since the assembly of the EGR is complicated and delicate due to thin gauge material, as well as very inaccessible joints
1ST RUNNER-UP
JACO PRINSLOO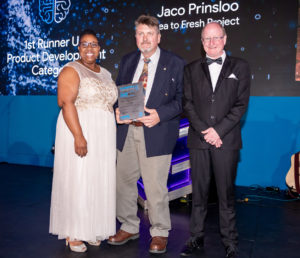 Judges Comments:
For a unique design using solar power to recycle and clean contaminated water with portable equipment

WATER RECYCLING WITH SOLAR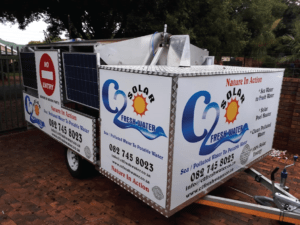 Jaco Prinsloo's innovative and portable Sea to Fresh Project offers communities a solar powered, portable water recycling unit with capabilities to clean contaminated water making it consumable for use and providing community job opportunities.
Manufactured from ferritic stainless steel to reduce costs, yet still ensure a quality product with a long lifespan, the Sea to Fresh unit uses solar energy, further contributing to the environment. Promising developments in water savings and entrepreneurship initiatives, Prinsloo's design functions automatically with a PLC-system that resets daily to harvest polluted or salt water for purification for human consumption or use within agricultural communities.
2ND RUNNER-UP
SATURN STAINLESS INDUSTRIES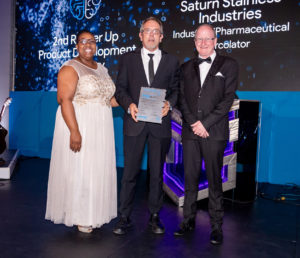 Judges Comments:
For using a novel spiral mixer that maximises liquid/solid contact and clears the strain area, this is a world first that achieves higher efficiency than imported versions at 75% lower cost
COST EFFICIENT PERCOLATOR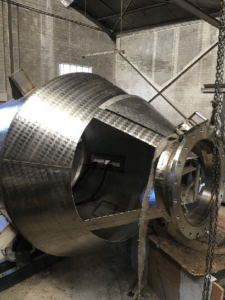 Producing an efficient and costeffective design for an industrial pharmaceutical percolator for extraction from plant material such as Buchu, Rooibos and Safflower, Saturn Stainless Industries exhibits both stainless steel functionality, productivity, environmental performance and enhanced competitiveness.
Developed through sound process understanding, good design and skilled engineering, the company was able to deliver a world-first stainless steel product with higher efficiency than its competitors, at a 75% cost reduction compared to imported versions. It has been manufactured from
grade 316 stainless steel.
MERIT AWARD
INTERNATIONAL SOLUTIONS ENGINEERING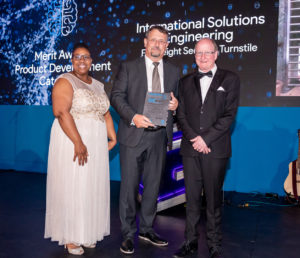 Judges Comments:
For designing a full height security turnstile, utilising a unique breakdown design to simplify transport to export markets. This product features a patented rotary solenoid locking/unlocking cam system

TURNING TO GREATNESS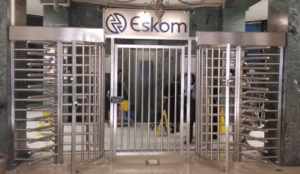 Following two and a half years of research and development, International Solutions Engineering (ISE) brings a unique collapsible breakdown design to their Full Height Turnstile manufactured in 3CR12, 304, and 316 stainless steel, enabling it to be packed flat to fit 45 units, instead of just 14, into a transport container.
With working mechanisms made from engineered plastics, the turnstiles provide light weight, corrosion resistant durability and is already being exported to Nigeria, Botswana, Namibia, Kenya and the entire SADC region.