WINNER
SPIRAL ENGINEERING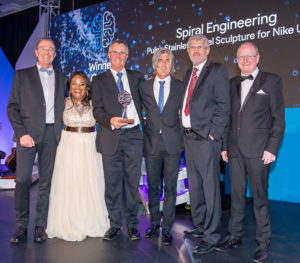 Judges Comments:
For designing a stunning sculpture, illustrating running athletes, using stainless steel for a dramatic visual effect, giving South Africa international exposure for years to come
STAINLESS STEEL RAISES NIKE'S 'PULSE'
Mimicking the weightlessness of an athlete in motion in abstract vision, 'Pulse' is an elegant and intricate, linear sculpture designed and constructed by Spiral Engineering for display outside Nike World Headquarters.
Fabricated from 5 tons of 316 structural steel, it is based on an interpretation of middle-distance athlete Sebastian Coe and reminds observers that competition motivates us to reach new heights and that we each have the ability to surge ahead of the pack. Comprising approximately 200 vertical
laser cut members, all supporting triangular, faceted panels interconnect along an S-curve; the design replicates the movement and form of the runner and originated with the mapping of Coe's stride to create a 3D animation of a running figure shifting from start, middle and end.
The base, at over 20m long, is constructed in eight individual sections consisting of two laser cut 5mm plates separated by 150mm spacers, fitted with tubular sleeves at specific angles to support the vertical figures.
The base sections are bolted together to form a waving 'snake like' platform that has then been positioned into a water feature on the site.
With each of the 300-laser cut 3mm plates, uniquely shaped and precision bent at various positions and welded into slots  on the vertical posts, it forms the multidimensional figure of a runner, which morphs into another figure as one moves along the length of the structure.
RUNNER-UP
COSTER MKOKI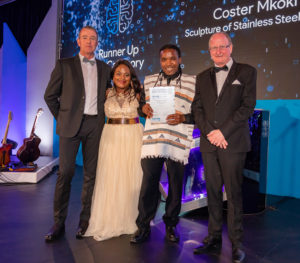 Judges Comments:
For producing a beautifully made sculpture with amazing detail that demonstrates the production of liquid stainless steel
STEEL SCULPTURES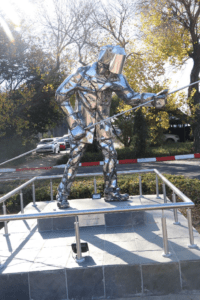 Bold, distinctive and eye-catching are just some of the compliments artist Coster Mkoki receives for his talents, as part of the Mpumalanga Stainless Steel Initiative where he uses a liquid stainless steel process to produce imposing, larger than life sculptures.
MERIT AWARD
HAILOS CONSTRUCTION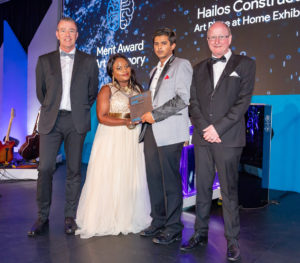 Judges Comments:
For using a combination of stainless steel and wood in an intricate design

ART FROM INSPIRATION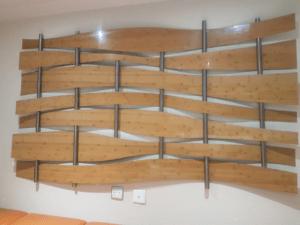 Vision and art inspiration from Hailos Construction combined to produce an inspiring art piece for a Johannesburg residence.
Using 308 laser cut stainless steel and bamboo wood with gloss veneering. Stainless steel tubing was used to weave the elements between the posts to offer a cascading wave effect.