WINNER
SKY HILL HEAVY ENGINEERING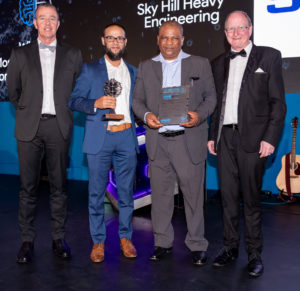 Judges Comments:
For achieving a Level 1 B-BBEE status today from a Level 5 in 2016, Sky Hill Heavy Engineering is now 30% black women owned and 21% black men owned. The company is indeed transformed and has achieved this in a very short space of time
EMPOWERED INGENUITY WI

NS THE DAY!
In today's ever-changing business landscape, privately owned companies have had to quickly adapt to the Black Empowerment Policies of Government.
In 2016 Sky Hill was a Level 3 B-BBEE based on the old codes of compliance, and dropped to a level 5 B-BBEE in 2017, based on the 'new' codes. It then had to look at restructuring its business ownership and management structure to meet the new codes and requirements.
In order to remain relevant and to continue servicing their historical clients, Sky Hill Heavy Engineering had to make key decisions in terms of partnering with new equity shareholders and changing the strategy of how the business functioned, without losing its corporate identity and culture.
As a result, the company went through a Broad Based empowerment Trust Scheme. Black women now own 30% and black males 21% and the  company's B-BBEE is now a Level 1, the highest level of Compliance attainable.
An empowerment holding Trust now owns Sky Hill, Hydra-Arc and the Mshiniwami Artisan Academy, with the B-BBEE partners having a cross spectrum ownership amongst these companies. The strength of this is that if one company is not doing well due to a cyclical financial downturn,  there are the other companies, that cover a range of industries and services, to mitigate shareholder volatility. This is empowered ingenuity at its best.
RUNNER-UP
HLAKANI ENGINEERING SERVICES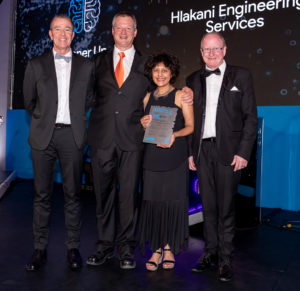 Judges Comments :
For developing unskilled people and attaining Level 2 B-BBBE rating, this company is black women owned and through transformation and skills development, ALL South Africans are given the opportunity to utilise 100% of their talents

POWERING THE GROWTH OF STAFF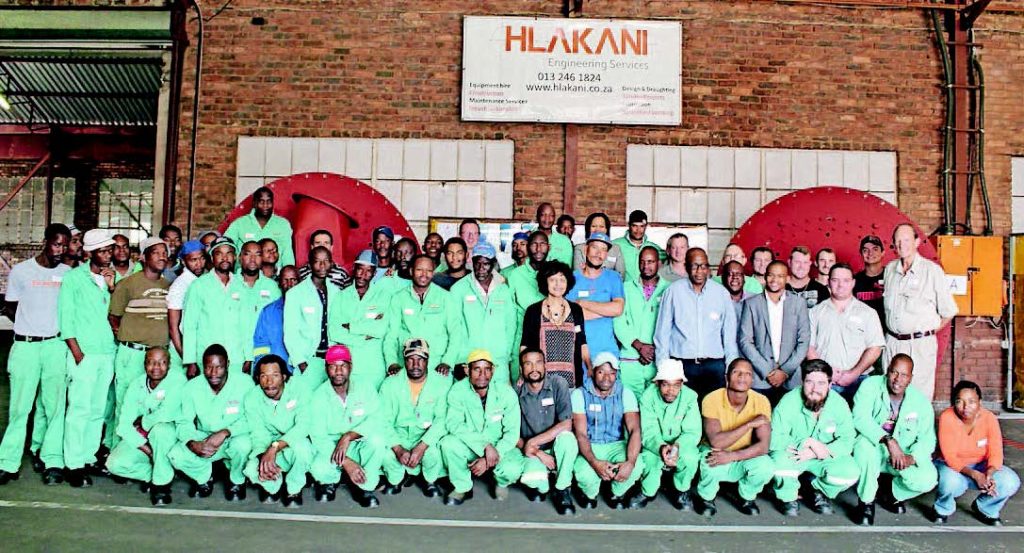 When Hlakani Engineering Services started its fabrication facility, the first employees stemmed from a residential building background, e.g.  plumbers, tilers, painters and brick layers. Hlakani offered this team the opportunity to develop and invested in in-house and external training and the personnel that accepted the challenge have developed and gained experience to the extent that they have become coded welders and boiler makers.
A Hlakani career path is where an un-skilled individual is employed and he or she shows interest in a specific skill. Tools, consumables and material are at this individual's disposal and with the employee showing interest and having the willingness to develop and basically change their own destiny, Hlakani reviews the results of welding or boiler making and then invests in this person.
An employee showing talent in welding for instance, is sent on a welding course and with the new theoretical training and enough practical experience, they are then given a practical coded welding test. If the employee passes the welding test, they are immediately upgraded to the pay grade of a coded welder.
Hlakani, by choice, utilises permanent employees as most of its qualified staff came through the ranks, starting at the bottom. This ensures loyalty, a specific company culture of commitment and pride in one's work with the end result being a low staff turn-over.
For the Eskom Camden PF burner contract, Hlakani made a commitment to train a total of four employees during the project. At the end of the project Hlakani had far exceeded that target and had trained 46 persons in various skills and created 75 new jobs.
RUNNER-UP
DESERT WOLF CONSULTING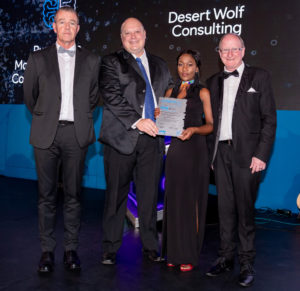 Judges Comments:
For being 51% black-owned by the long-term workers of the company, these employees are fully empowered to take decisions in the direction and planning of the company

EMPOWERED STAFF JOIN THE FAMILY
Following many decades of good working relationships with their staff, Desert Wolf Consulting has committed to transforming the business. Since making this commitment it has transformed from a wholly whiteowned family operation to a 51% black owned business where workers hold the majority shareholding.
With many workers having been employed by the company since inception, staff have been empowered to take ownership of quality, productivity, safety and long-term planning as well as share in the profits and gains of the company.
RUNNER-UP
ONE EIGHTY MATERIALS TESTING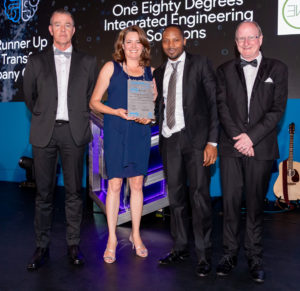 Judges Comments:
For being a 51% black-owned Level 2 B-BBBE company where black people actively play a part in management control in key positions throughout the company. There is a special emphasis on developing skills and staff

KEY POSITIONS TRANSLATE TO TRANSFORMATION
Regarded as a 125% B-BBEE contributor, One Eighty Materials Testing has an excellent standing in transformation where black employees actively play a part in management control in key positions with a special emphasis on both skills and personal development.
Preferential procurement policies are in place to support empowering suppliers and One Eighty Materials Testing delivers young people to the industry who are well versed, trained and mentored, adding value to the economy.
MERIT AWARD
NATIONAL

STAINLESS

STEEL CENTRE
Judges Comments :
For being a 26% black-owned Level 3 B-BBBE company, NSSC has created a Staff Trust to alleviate poverty of their employees and their families. This is a wonderful example of what a company is doing to ensure economic development of previously disadvantaged individuals
PROFIT SHARING AIMS TO UPLIFT STAFF AND FAMILIES
In order to facilitate a working environment conducive to education and growth, National Stainless Steel Centre (NSSC) have implemented a staff trust to own 26% of the company with staff of more than five years and black women (immediate) as beneficiaries for educational and medical
purposes.
At NSSC all staff members enjoy a hot meal every day, are offered training and skills development as well as apprenticeship positions in an effort to upskill all employees in the company.