WINNER
Hazleton Pumps International
Judges Comments:
For achieving consistent export growth from 3.6% in 2013/2014 to 27% in 2015/2016 and to 65% in 2017/2018, Hazleton Pumps International is well-known in the rest of the world and can deliver the products and services required
EXPORTS DOMINATE A WINNING OUTWARD BOUND STRATEGY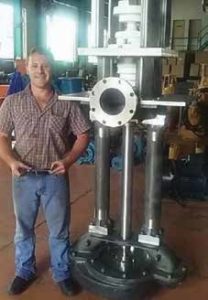 With the economic slump in the South African market, especially the stagnation in the Southern African mining sector, Hazleton Pumps International made the strategic decision to concentrate on exports with stellar results.
In line with this shift in focus, every avenue has been explored to gain insight into export markets and the export assistance offered by the dti under the EIMA Programme has proved to be a valuable tool.
Over the past 5 years several National Pavilions and Outward Bound Trade Missions have been attended. This has resulted in an incredible result, off a base of 3.6% exports in 2013/14, this figure subsequently rose to 27% in 2015/16 and is currently sitting at an impressive 65% in 2017/18.
Some of the key reasons for this stellar success include the fact that the harsh mining conditions in southern Africa required submersible pumps to pump high volumes of acidic liquid containing solids at high heads and which have led to the design and development of the world's first Medium/High Voltage Submersible Slurry Pump.
Products that have been successfully implemented in the South African mining industry are therefore usually accepted internationally and the cost of specialised products manufactured in South Africa is also economically competitive internationally.
1ST RUNNER-UP
DESERT WOLF CONSULTING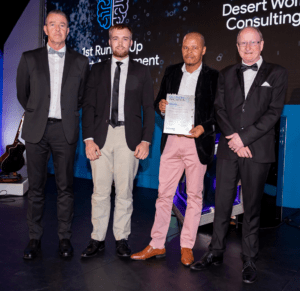 Judges Comments:
For increasing exports from a zero base 10 years ago, to 60% of their production today and producing world-class mobile solutions.
GROWTH IN AFRICA HERALDS EXCITING NEW PATH FOR LOCALLY MADE SECURITY SOLUTIONS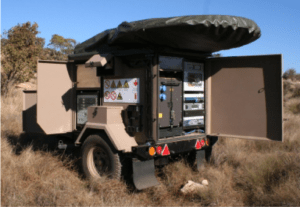 Forging a path across the African continent on to the global market, Desert Wolf Consulting has grown its export market from nearly nothing, ten years ago, to 60% of their production. This has been achieved through their unwavering focus on the delivery of world-class solutions - primarily mobile security surveillance - on the African continent.
The company now has facilities in Zambia, it is also opening a branch in Botswana and has an excellent agent in Namibia as well as recently establishing ties in Sudan.
2ND RUNNER-UP
ROCK SOLID INDUSTRIES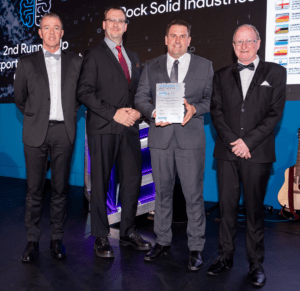 Judges Comments:
For exporting to 20 countries with growth from 140 units in 2014 to more than 600 units per year today
EMBRACING THE EXPORT ADVANTAGE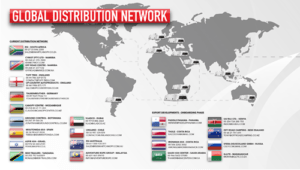 Rock Solid Industries has been in existence since 2007 and has expanded at an excellent rate. The company currently exports to 20 countries with expansion planned to increase by a further eight.
The company is represented by international distributors who service customers. A key component to their onboarding process is educating distributors and its local clients on the advantages of stainless steel over traditional materials such as fibre glass and aluminium.
This positive relationship has seen its growth trajectory remain positive for the foreseeable future.
MERIT AWARD
ND ENGINEERING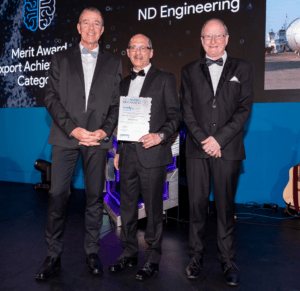 Judges Comments:
For exporting to over ten countries in the last two years alone, ND Engineering now exports more than 50% of their production.

WORLD-CLASS EXPERTISE BRINGS THE 'EXPORT' MARKET HOME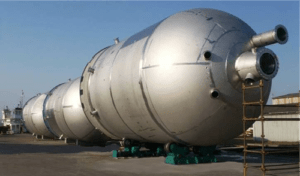 ND Engineering recently produced four units for the Tisza Project in Hungary, consisting of two Cation and two Anion RDA units in 316L.
This stems from ND Engineering's involvement as the constructability experts for the manufacture of RDA units for the past 12 years which has allowed it to optimise the manufacturing to a point where these units are cheaper now than they were 12-year ago.
Judges Comments:
For exporting to over ten countries in the last two years alone, ND Engineering now exports more than 50% of their production.