WINNER
Welfit Oddy
For Global Sales as one of the World's Largest Tank Container Manufacturers
Welfit Oddy have worn many hats over the course of their phenomenal 124 year existence, however, today their business is focused solely on the design and manufacture of intermodal tank containers, which are all exported into international markets!
This highly specialised product is used for transporting bulk volumes of fluid cargo. Since each substance that a client may want to ship needs to be handled in a specific way, most of the work that Welfit Oddy carries out is customised. At its most basic, the format of a tank container consists of a large stainless steel pressure vessel that is mounted within a carbon steel ISO frame.
Placing the vessel in a ISO frame allows the convenience for transportation of the product by road, rail, air and sea.
Despite many challenges Welfit Oddy has excelled and consistently grown its annual output for the past 30 years.
This is a win for the South African economy in general and the stainless steel industry in particular, because Welfit Oddy sources the majority of their raw material locally. Approximately 60% of the components in a tank container are made of varying grades of stainless steel.
Welfit Oddy continuously looks at areas of growth both in Africa and abroad to further expand export opportunities. The company has made large investments in both equipment and training of people so it can ensure its products are competitive and of the highest standards. About 90% of its sales are traded in either US dollars or euros and when converted this is equivalent to an approximate turnover of R2 billion for 2016.
Contact :Welfit Oddy
Tel : 041 404 6600
Website : www.oddy.co.za
---
1st RUNNER UP
Anderson Engineering
For the Design and Manufacture of Turnkey Solutions in Various Countries in Africa
Anderson Engineering has been in business for close on six decades, in large part because they take turnkey solutions seriously. They do not subscribe to a "plug-and-play" approach - rather, their equipment and engineering solutions are customised for every client and project and are conceptualized, designed and manufactured to exacting standards. They have a strong reputation for building high quality equipment to ultra-hygienic standards.
Their ability to understand and work with their clients stems from a philosophy of flexibility and as a result the solutions they deliver are uniquely built for purpose, not adapted to it. This approach serves them well in an international marketplace, where requirements and methodologies change from region to region.
Over the years they have manufactured and implemented turnkey solutions across Africa serving industrial sectors such as the pharmaceutical, personal care, food and beverage industries. Much of their African business has been built on their ability to deliver solutions that are functionally superior to European imports, cost less money and are also customised to the client's method of working. Anderson Engineering's solutions enable the clients to produce quality goods that compete with world-class standards and thus increasing their manufacturing opportunities.
One of their recent turnkey projects involved the manufacture and installation of a toothpaste plant with a 3-ton batch capacity, for Unilever Nigeria's Oregun Factory. Anderson Engineering designed, manufactured, installed and commissioned the equipment on time, to the client's specifications and in so doing demonstrated one of their core strengths: working efficiently over distance. This is a strength that's been tested in countries as diverse as France, Kenya, the Seychelles and Zimbabwe.
Other recent project include Dosing Skids in Kenya, Bulk Bag stations in Zimbabwe and a CIP plant in Maputo. They have also manufactured, installed and commissioned spirit blending plants for SAB in Sudan, Nigeria and Ethiopia. Their client list includes giants like Beacon, Cadbury, Clover, Nestle, Sara Lee and Tiger Brands.
Contact : Anderson Engineering
Tel : 033 387 1544
Website : www.andersoneng.co.za
---
2ND RUNNER UP
Hazleton Pumps
For the Export of HIPPO Slurry Pumps especially to the Mining Industry in Canada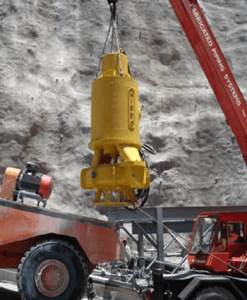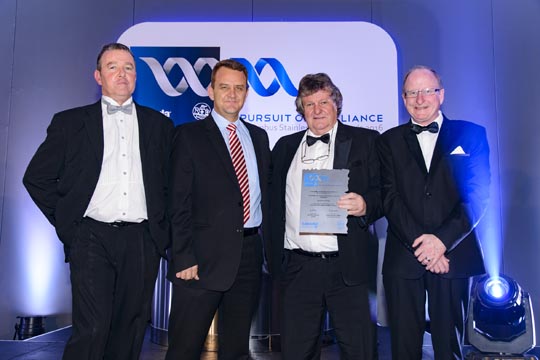 Hazleton Pumps is a family owned business that's been in operation since 1979. They specialise in building custom pumping solutions to customer requirements and have a strong history of product development for the mining sector.
Recognising the downturn in the South African economy in particular the stagnation of the mining industry, Hazleton took the strategic decision
to refocus their efforts on finding new business in the international marketplace.
To achieve this the company put considerable effort into identifying countries where conditions were favourable for their service and product
offerings and developing an understanding of the needs of key players within those territories. Hazleton also began attending pavilions and outboard selling missions in Zambia, Chile, Cuba, Peru and Canada.
The latter proved to be a particularly good fit for Hazleton's skill set as mining operations in Canada are experiencing a growth trend.
Hazleton has developed a strong relationship with The Oil Sands Mines in Fort McMurray, which it annually supplies with new custom-built Hippo Flameproof High Voltage, High Head, High Volume Submersible Slurry Pumps. These are capable of operating between 30oC and -40oC, with minimum throughputs of 166L/s at a 50m head.
Hazleton has also broken into markets in Israel, Madagascar and Namibia. The renewed focus on exporting has had a significant impact on their turnover and year on year that segment represents an ever-increasing percentage of their bottom line. For example, in the 2013- 2014 financial year exports represented just 3.58% of the company's total business but for the 2015/2016 financial year, that figure has leapt to 26.55%.
Contact :  Hazleton Pumps
Tel : 012 666 8431
Website : www.hazletonpumps.co.za
---