WINNER 
Efficient Engineering
For the Design and Manufacture of 3CR12 Modular Sub-Stations in a Coated HRA Finish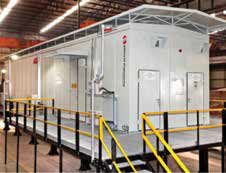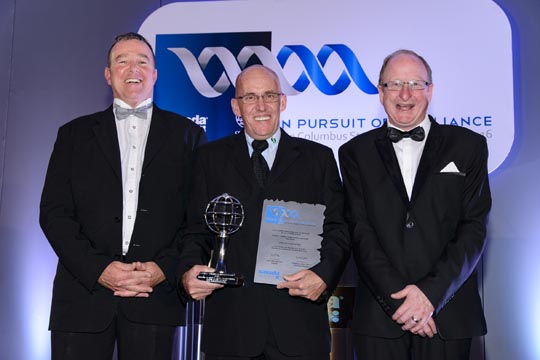 Efficient Engineering is a dynamic engineering solutions company founded in 1958. Their current factory floor spans 28 500m2 across both of their facilities in Gauteng and the Western Cape.
To date, Efficient Engineering serves sectors such as oil and gas, mining, earth moving, materials handling and storage tank manufacture. They design and customise equipment and also provide refurbishment and maintenance services.
One particular sector where Efficient Engineering has excelled is in the design, construction and implementation of modular substations. These are typically deployed for housing electrical systems, but other applications exist, too. They've seen considerable use by the mining, oil and gas and telecommunications industries and by the Meerkat project. For industry, the advantage of a modular substation is that it streamlines logistics and can often be moved from project to project.
In the past, modular substations used to be made of carbon steel, but since 2011, Efficient Engineering has been building them out of painted 3CR12 HRA. This switch yields a number of benefits that include increased longevity, higher resistance to potential corrosion and offsite credibility.
Typically, the equipment housed inside a modular substation is a huge capital expense, so the station's primary function is protection. Because the nature of that equipment changes from client to client, every unit that Efficient Engineering builds is bespoke and uniquely designed for the job at hand.
Within the field of modular substation design Efficient Engineering has innovated some new approaches. In the past it was common to weld these designs. Decades of deployment has revealed that even the best welds can fatigue or crack. To counteract this Efficient has switched to a hydraulic swaged bolting system. While this method does require extensive preparation of individual components, it results in a net saving in labour as it is
significantly faster.
Each modular substation is built, tested and signed off at Efficient Engineering in a conducive environment and then shipped to site. The units are waterproof, airconditioned with a "safari roof" and are 100% mobile. Because they operate with hydraulic lifting, a crane is not required to shift them. Units built for Oil and Gas or the petrochemical sectors even have an explosion rating.
Contact : Efficient Engineering
Tel : 011 928 4800
Website : www.efficient.co.za
---
JOINT 1ST RUNNER UP 
Kholeka Engineering
For the Building of a 35000 litre 3CR12 Drinking Water Tanker
With the devastating drought South Africa is experiencing Kholeka was approached by UD Trucks - Magnus Zululand to assist a desperate game farmer from Zulu Nyala Game farm. The game farm was running out of water and needed to make sure none of its animals died due to dehydration.
Kholeka Engineering, one of the top KZN bodybuilders who specialise in water tank body fabrication, jumped at the opportunity to build the tanker. Kholeka built the 35 000 L water tanker within the customer's very tight deadline preventing any animals from dying.
The water tanker truck bodies were built from 3CR12 ensuring a high quality product that is going to outlast conventional mild steel tankers; and guarantees the water quality will not be compromised with contamination by rust from the tank body.
The company offers the following ferritic stainless steel 3CR12 water tanker options:
Capacity: 4 000 L, 5 000 L, 6 000 L, 8 000 L, 10 000 L, 12 000 L and 14 000L
Infield water tankers on drawbar trailers
Hydraulic or petrol/diesel driven pumps
Colour of tank painted to customer's requirements
Water tanker specifications:
Design of tank – Elliptical with dish ends
Two or three baffles depending on the size of the tank
4.5 mm thick shell with 6 mm thick dished ends
Manhole cover with step ladder access
Site glass for both water level and hydraulic oil level
Able to pump out of or into tank
PTO supplied and fitted depending on application
Dump valve
Taps for dispensing water
3CR12 is the best choice for drinking water tanks due to its corrosion properties and life cycle costing.
Contact :  Kholeka Engineering
Tel : 031 700 1221
Website : www.kholeka.com
---
JOINT 1ST RUNNER UP
Skyhill Heavy Engineering
For the Design and Manufacture of Municipal Water Storage Tanks in 3CR12 instead of Concrete
Skyhill Heavy Engineering, part of the Hydra Arc Group, is joint first runner-up in this year's ferritics category. Skyhill specified 3CR12 to be used for municipal water storage tanks rather than concrete tanks in rural areas. The innovative design, using an inverted bottom cone, allows drainage of sludge and cleaning without emptying the tanks. The company not only specified 3CR12, but also designed and fabricated these innovative tanks.
3CR12 is the ideal material of choice in ambient temperature water applications where there are no stagnant conditions and crevices are avoided, such as prolonged sludge build-up.
Sky Hill promoted stainless steel by convincing the provincial government to accept 3CR12 rather than traditional concrete tanks. Sky Hill also recognised the need for an easy and efficient method of removing sludge without the need to empty the tank. The innovative design has allowed 3CR12 to be used, with confidence in this application.
Sky Hill has successfully completed small, medium and large fabrication projects, from design to delivery. Its focus remains on quality and the rapid, cost-effective fabrication and refurbishment of vessels, piping and equipment through the innovative use of the latest technologies.
Contact :  Skyhill Engineering
Tel : 017 632 7000
Website : www.hydra-arc.com
---
2ND RUNNER UP 
Tugela Mining and Minerals
For the Structural Design, using 3CR12, of a Ferrochromium Fines Treatment Plant
Tugela Mining and Minerals is the second runner-up in the ferritics category in this year's stainless steel awards. National Stainless Steel Centre (NSSC) designed and fabricated a structural application using 3CR12 stainless steel for Tugela Mining and Minerals.
Tugela Mining and Minerals wanted the structure of its plant to be fabricated from painted steel and approached NSSC. The company, however, sold the idea of using an initially more expensive option of 3CR12 to Tugela Mining and Minerals after explaining the lower cost solution if one considers life cycle costing.
This award recognises the importance structural applications play as they are the biggest potential growth area for stainless steel globally.
This is a classic example of how life cycle costing can prove to offer cost savings over the long-term.
Contact : Tugela Mining and Minerals
Tel : 012 809 1980
Website : www.tugelamining.co.za