WINNER 
Jacques van der Westhuizen
For the Creation of Various Stainless Steel Sculptures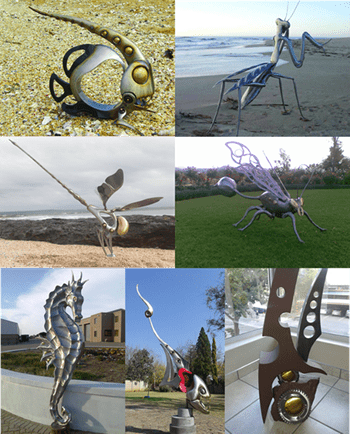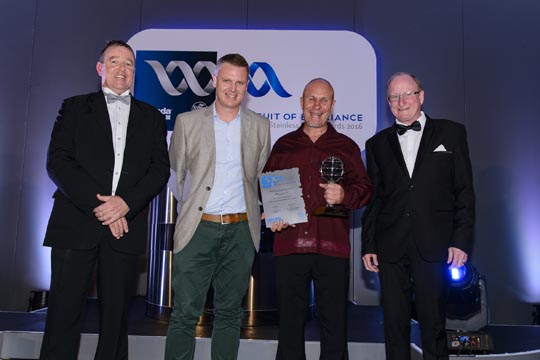 Jacques van der Westhuizen wins this year's top accolade in the art category. Van der Westhuizen is an emerging South African artist who specialises in medium to large scale unique three dimensional stainless steel sculptures, for all audiences.
The sculptures are completely hand shaped and made with hand shaping tools and take a great amount of time and love to create. It has taken 31 years to master the art of manipulating stainless steel. He says: "The process is an intense visual and mental challenge as it requires me to manipulate stainless steel into awkward shapes and forms by hand. I have achieved this level of craftsmanship because Passion is Fashion!"
All Van der Westhuizen's sculptures are made from grade 316 stainless steel, carbon fibre and brass. They each take approximately 8 weeks to make.
Contact :  Jacques van der Westhuizen
Tel : 076 4415236
---
RUNNER UP 
Chris van der Vyfer
For the Design and Manufacture of "Fireballs"
Chris van de Vyver of Fireball SA is the runner-up in this year's art category. Fireball SA is a one-man company and Chris is by training a boiler maker and a welder.
Fireballs are open fire pit installations. Van de Vyver uses grade 304 and grade 316 stainless steel to create these beautiful works of art.
He started off making the fireballs from carbon steel as many people like the rust discolouration. He has made one for a client in Klerksdorp in 316 and recently exported his first one to the US in stainless steel grade 304. Following discussions, van de Vyver has decided to try 3CR12 and incorporate the corrosion resistance with the discolouration.
Van de Vyver starts out with stainless steel sheet, welds and hand plasma cuts out the uniquely African designs to create a sphere. Van de Vyver says: "With the giraffe moving among the trees as the flames flicker through the carefully constructed cut outs, this work of art embodies the life and the souls of the creatures and trees that are cut into them."
Whether for commercial or home use, these Fireballs appeal to both international as well as local art lovers.
Contact :  Chris van der Vyfer
Tel :  082 098 2229
---
MERIT AWARD 
The Matrix
 For the Helenvale Resource Centre
The Matrix receives a merit award for its two stainless steel works at the SA Institute of Architects' Helenvale Resource Centre.
"Kite Boy," consists of an annulus, out of reflective stainless steel, upon which a figure of a young child balances, while looking towards the centre and flying a kite. The 2 400 mm outer diameter and 400 mm deep annulus was fabricated out of a 4.5 mm thick grade 304 frame that was clad with 3 mm thick grade 316 segments (front and back) and 2 mm thick surface (inside and outside).
The segments were spot fused to the frame and the inner and outer surfaces were continuous welded to the segments. The edges were ground smooth and the structure was sanded to a 1200 grit finish and buffed to a polished shine.
The second piece is a mural cut from reflective stainless steel sheeting.
Contact :  The Matrix
Tel : 041 582 1073
Website :  www.thematrixcc.co.za