JOINT WINNER 
Jacobus van Deventer
For his Achievement in Welding Competitions
Jacobus van Deventer is the joint winner of this year's student category. He has achieved multiple awards for his proficiency in welding, with a focus on stainless steel.
With 20 participants, the Young Welder of the Year (YWOY) 2015 was the largest in the history of the competition. As the winner, Van Deventer represented South Africa in the WorldSkills competition held in Sao Paulo, Brazil, in August last year. "I am very excited to have won this historical event," said Jaco on receiving the award. "It's an honour to get the chance to represent the South African welding industry at the World Skills competition and a bonus for my welding career to have won this prestigious event."
Van Deventer says he loves welding. "I've always been good with my hands and I like working on practical projects. But more and more I enjoy the science of welding, which is so interesting across so many materials and applications."
Earlier this year Van Deventer placed second in the Youth Group for the Finished Product Welding category at the Arc Cup hosted by the Chinese Welding Society (CWS) and supported by the International Institute of Welding.
---
JOINT WINNER 
Odabele Babatunde
For the Development of Functionally Graded Stainless Steel for Engineering Applications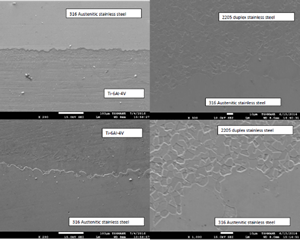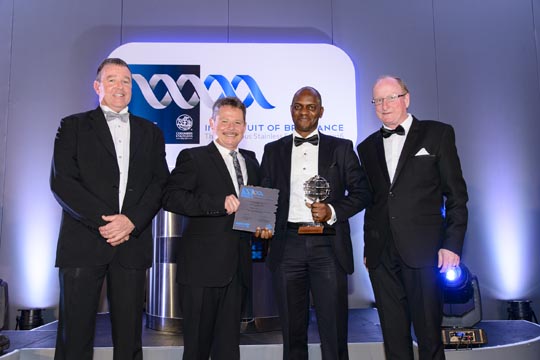 Babatunde Abiodun Obadele is the joint winner in the student category for his research into the development of functionally graded stainless steels for engineering applications. Obadele used grade 316 and 304 austenitic stainless steels and 2205 and 2507 duplex stainless steels for his research for his degree through the University of Johannesburg. This work focuses on the fabricability of austenitic and duplex stainless steels using the spark plasma sintering method. Efforts have been made to develop functionally graded stainless steels with titanium alloys. Commercially available AISI 316L austenitic (99% pure, average particle size of 53 μm), SAF2205 duplex (99% pure, average particle size of 22 μm) stainless steels and commercially pure and Ti-6Al-4V powders were used as starting materials.
Spark plasma sintering (SPS) is a recently developed powder consolidation method that allows the compaction of metallic or non-metallic powders to be sintered within the shortest sintering period as compared to other sintering methods such as hot press and also a short heating, holding and cooling time.
This method can also be used to fabricate functionally graded materials (FGM). An FGM is an inhomogeneous composite material comprising two or more distinct phases in which the constituent materials change continuously as a function of position.
FGMs are highly desirable in applications in which the service conditions of a part vary with location  and therefore the material requirements also vary with location. Stainless steels of different grades find wider applications in engineering. However, their applications have been limited due to the required phases, microstructure, mechanical and corrosion properties.
In this work, efforts have been made to fabricate different grades of stainless steels for complex service conditions. 316 and 2205 stainless steels were fabricated in layers and consolidated using spark plasma sintering technique.